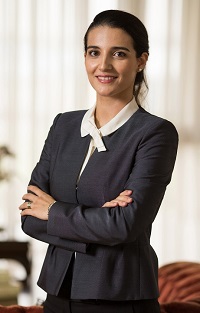 Assoc. Prof. Cemre S. Günsel Haskasap was born on 9th August 1986 in Nicosia. She was among the first to graduate from Near East Junior College, where she received her primary education. She received her secondary education at Near East College.
She successfully completed her undergraduate degree in the Department of Business Administration of the Faculty of Economics and Administrative Sciences, at Near East University, between 2003 and 2007. Immediately after graduation, she started another undergraduate degree programme in the Department of Maritime Management and Administration of the Faculty of Maritime Studies, and graduated with distinction in 2008.
Her academic, analytical and communication skills were highly-regarded throughout her studies. Having grown up in an academic environment and been inspired by her family's developing investments in the field of Education, she continued her academic career and obtained a postgraduate degree in Business Management in 2009. She obtained her PhD degree in Organizational Behaviour in 2017.
Assoc. Prof. Cemre S. Günsel Haskasap was appointed to the Board of Trustees of Near East University and the Administrative Board of Near East University Hospital in 2010. Following this, as the Founding Rector, she laid the foundation for the establishment of the University of Kyrenia, the first institution focused on Maritime matters, in North Cyprus.
Assoc. Prof. Cemre S. Gunsel Haskasap is married and has four children.