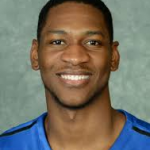 The Adult Men's basketball team of University of Kyrenia made an agreement with Willie Clayton who graduated from Georgia State University and played for the NCAA 1 team.
Willie Clayton (born on the 25th of November 1992) with a height of 2.03 m. is playing the center-power forward position, where he had started his College career at the Charlotte 49ers and then transferred to Georgia State University.
HE PLAYED IN ECUADOR DURING SUMMER
Clayton graduated from Georgia State and played in the summer at Piratas in Ecuadorian National League where he carried his team to the finals with his extraordinary performance.
The 25 year old player who will come to Cyprus next week, in Ecuadorian National League has totaled 14 points and 9 rebounds.