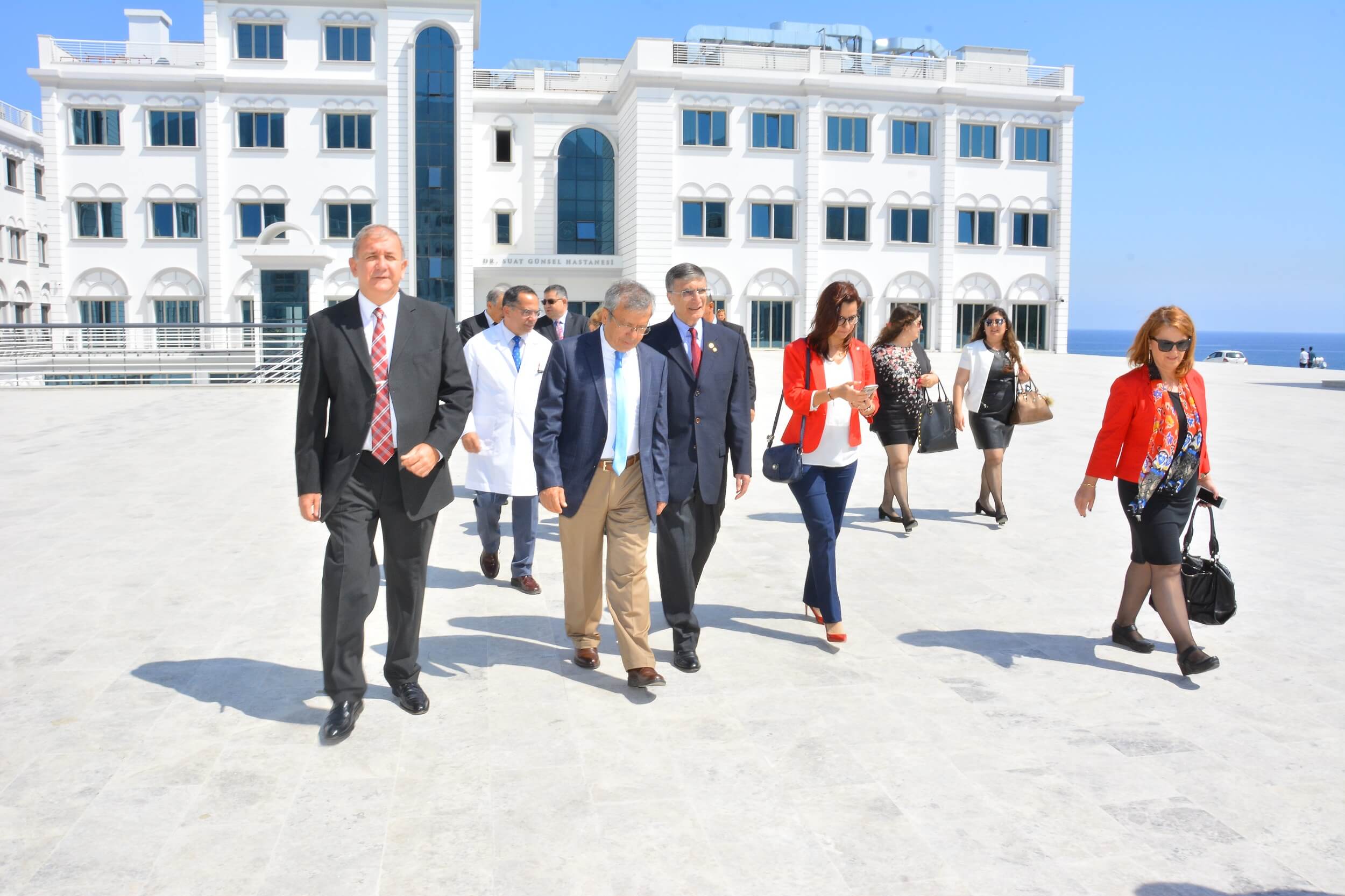 Sancar "Intellectual Infrastructure And Investment For Human Is Essential"
University of Kyrenia hosted Nobel prize-winning scientist Prof. Aziz Sancar MD., who is a Professor of Biochemistry and Biophysics at University of North Carolina.
During the visit hosted by Prof. İlkay Salihoğlu Prof. Aziz Sancar MD., met with Dr. Suat Günsel University of Kyrenia Hospital and Dental Hospital physicians, university academicians and students at two separate meetings. Besides the students of the university, also students from other universities who were willing to meet with Prof. Aziz Sancar MD., and learn about science showed great interest in the event.
Rector Salihoğlu: "Today Is A Day Of Honour And Pride For Our University "
Prof. Ilkay Salihoglu mentioned that he was pleased to host Prof. Aziz Sancar MD., in TRNC and at University of Kyrenia. Rector Salihoğlu also expressed his gratitude and appreciation for Prof. Sancars visit and valuable contributions. Rector Salihoğlu underlined that they are proud to host a valuable scientist who is respected all over the world and makes great contributions to the humanity with his work and also adding that "today is a day of honour and pride of our university".
The Nobel Prize-winning Turkish Scientist Prof. Aziz Sancar MD, accompanied by Prof. Nedime Serakıncı from Near East University visited also the simulation centres of Maritime and Aviation faculties and the Dr. Suat Günsel University of Kyrenia Hospital. Prof. Aziz Sancar MD., during his meeting with academicians and physicians stressed that there cannot be fundamental science without technology and emphasised the importance of making investments on this topic.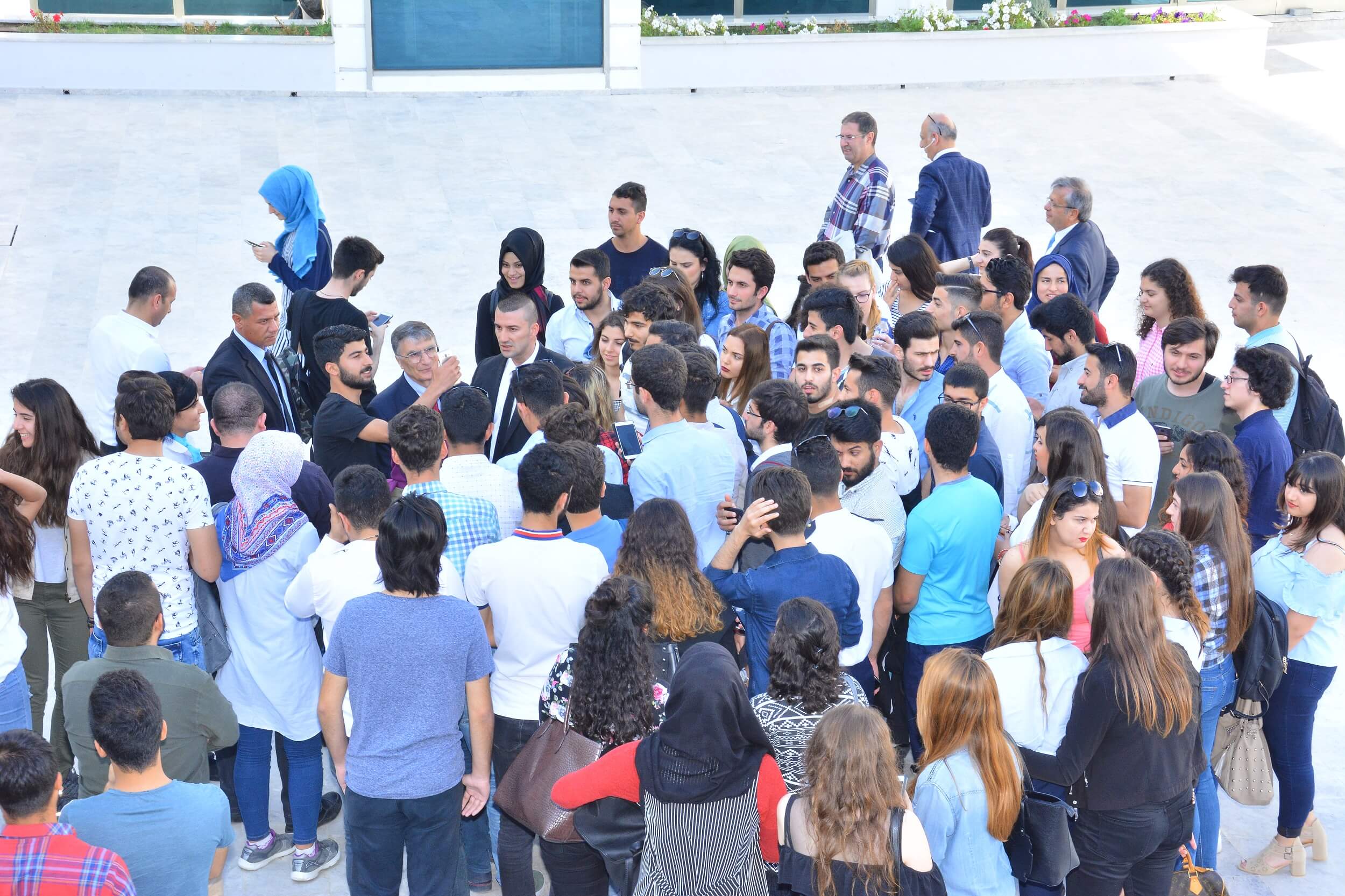 It Is Important To Create A Free Environment To Make Science
Sancar underlined the fact that advanced technologies are produced in the West and the importance of being independent on the scientific field and stated that the pre-condition of the independence of nations is to gain independence in science. Sancar emphasized the importance of being independent on the scientific field and stated that to achieve independence in science is a precondition for the independence of nations. He shared the history of science in Eastern and Western Civilizations with the young people and added that producing science is important cause of economic growth.
Emphasizing that there must be a free environment to conduct science, Sancar indicated that educators should respect young people's thoughts and ideas, young people and the importance of criticism and interrogation without losing respect. Sancar stated that "You should teach students to conduct experiments in basic science. Even if experiment is repeated, this is important for education. Their practical skills should be very good". Sancar on a question said that traditional songs help him to relax.
Before coming to Turkish Republic of Northern Cyprus, he visited the Central Asian Turkish States, Kazakhstan and Kyrgyzstan and noted that he told the young people in those countries that "science is a prerequisite to gain respect". Dr. Aziz Sancar said, "If we want to be respected, we have to produce science, and if this remains in your mind at the end of our meeting today, it means I have done my duty".
At the end of his speech, Sancar answered the questions by sharing his knowledge and experiences, the developments in todays scientific World and his journey to the Nobel success. After the program, Prof. Dr. Aziz Sancar took photographs with students.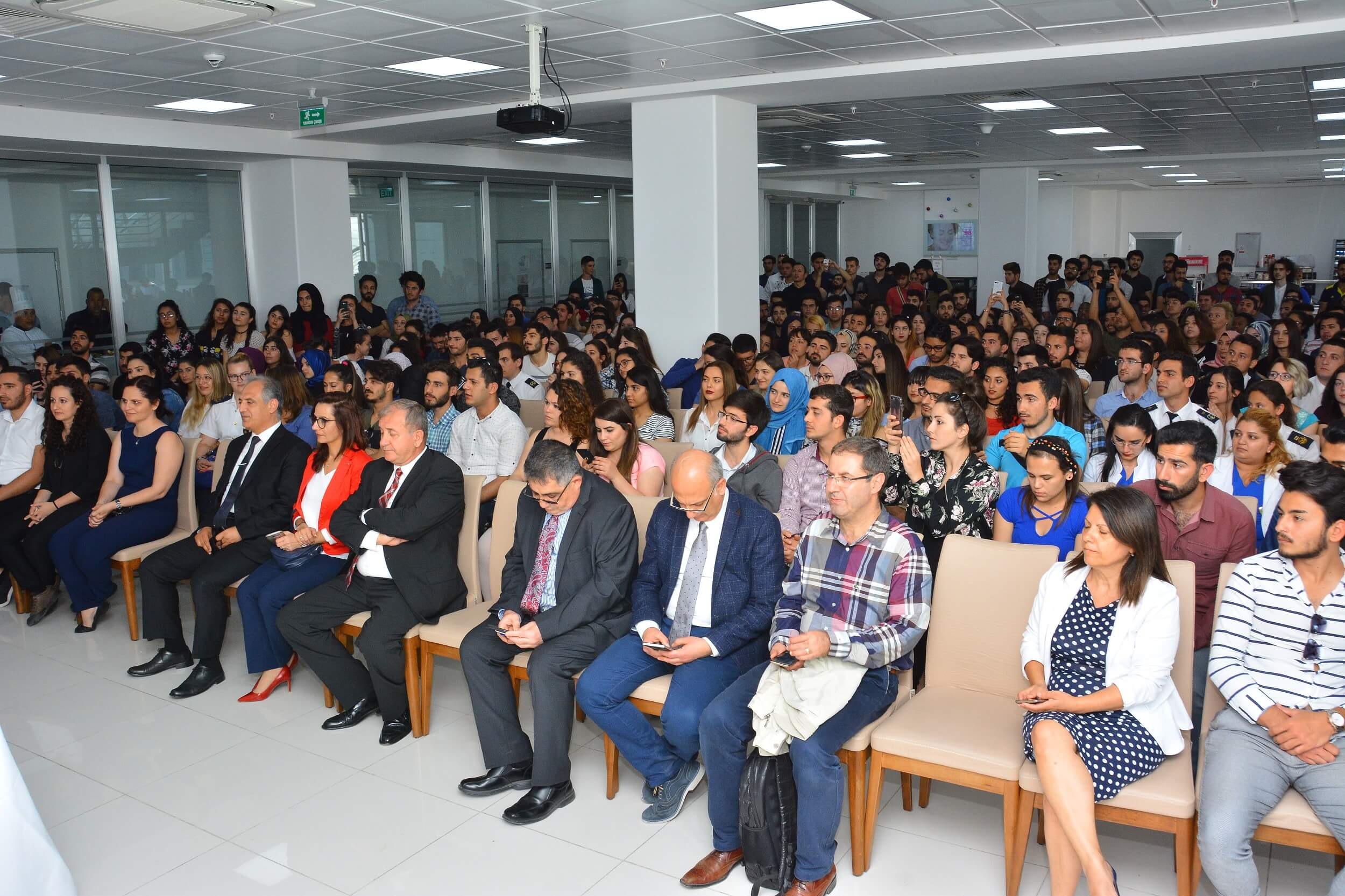 Who Is Aziz Sancar?
Aziz Sancar was born on September 8, 1946, in the Savur district of Mardin. He completed his primary education in Mardin. Sancar, graduated from the Istanbul Faculty of Medicine, which he entered in 1963. After practicing medicine in Savur for two years he attended the University of Texas at Dallas and obtained a Ph.D. degree in Molecular Biology in 1977 and conducted postdoctoral work at Yale University on DNA repair enzyme. University of North Carolina Biochemistry and Biophysics Department Teaching Staff Prof. Aziz Sancar MD. has been awarded the 2015 Nobel Prize for Chemistry for having mapped, at a molecular level, how cells repair damaged DNA and safeguard the genetic information. Sancar is the first Turkish-born scientist to receive the award. Prof. Aziz Sancar MD., continued to work on DNA repair, cell line, cancer treatment and biological clock. He published about 400 articles and 33 books.
Awards:
2015 – Nobel Prize in Chemistry
2007 – Vehbi Koç Prize
2006 – TÜBA (Turkish Academy of Sciences) Prize
2005- Member of the National Academy of Sciences U.S.
2004 – American Academy of Arts and Sciences Prize
1997 – TÜBİTAK (Scientific and Technical Research Council of Turkey) Prize
1995 – National Institutes of Health U.S. Prize
1990 –American Society for Photobiology Prize
1984 – U.S. National Science Foundation Prize