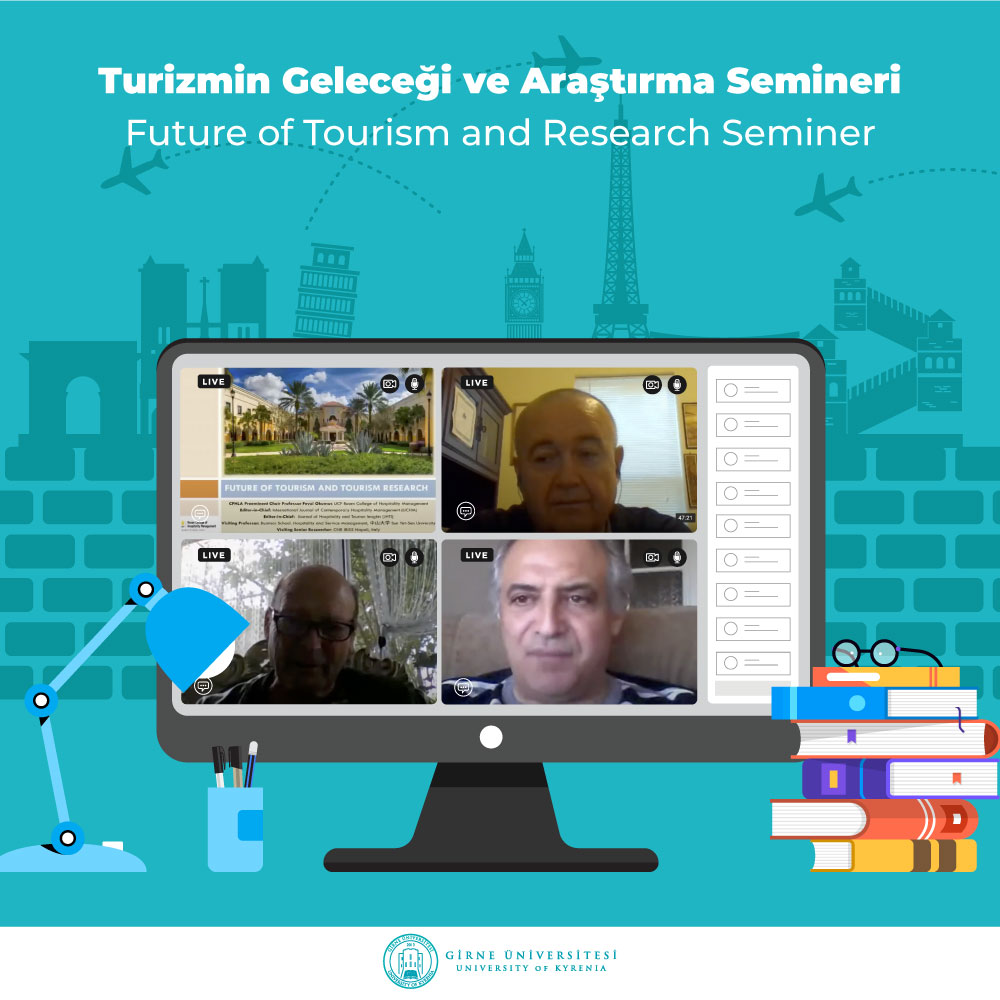 University of Kyrenia Faculty of Economics and Administrative Sciences held the seminar titled as the "Future of Tourism and Research"
The seminar that took place at 16:00 on the 30th of April 2020 emphasized on the future of tourism before and after the pandemic and recent research on these issues.
USA International Journal of Contemporary Hospitality Management Editor Prof. Dr. Fevzi Okumuş has been participated the seminar as a speaker.
The Dean of the Faculty of Economics and Administrative Sciences Prof. Dr. Mehmet Altınay made the opening speech and shared information about tourism and the Covid-19 outbreak. Altınay stated that they have contributed to the action programs for tourism on behalf of the university and the faculty. Prof. Dr. Mehmet Altınay stated that new findings will be shared with relevant institutions and also thanked the university administrators and everyone who has contributed for the seminar.
Prof. Dr. Mehmet Altınay said that Prof. Dr. Fevzi Okumuş serving as CFHLA leading professor at the Hospitality services Department of the Rosen Hotel Management within University of Central Florida. Altınay added that Okumuş has more than 230 academic publications, more than 140 journal articles, three books, 12 chapters and 90 conference presentations and reports.
Altınay explained that by April 2020, Prof. Dr. Fevzi Okumuş's publications received more than 9050 citations, he has chaired many masters and doctoral thesis committees, he is also the Editor of the International Contemporary Hospitality Management (IJCHM) – (IF:3.957). Prof. Dr. Mehmet Altınay listed speaker's awards as follows: in 2016 the 'Michael D. Olsen Research Award', in 2017 the 'University of Central Florida Award' and the 'CFHLA Special Professor' award , John Wiley & Sons Life time Research Achievement award from ICHRIE in 2018.
Prof. Dr. Fevzi Okumuş began his speech by expressing his happiness for being invited as speaker at University of Kyrenia's seminar.
Prof. Dr. Fevzi Okumuş focused on the international tourist flow by sharing up-to-date data in the field of tourism. Prof. Dr. Fevzi Okumuş, who talked about the distribution of tourism in the world geography, shared his views on the state of tourism after the epidemic. Prof. Dr. Fevzi Okumuş, who defended that future of tourism may change stated that tourism will be based on smart and accessible conditions, smart health tourism will develop, and factors such as transportation, entertainment, generation and experience management of customers will differ.
Okumuş emphasized that businesses will face issues such as marketing, human resources management, security, and social distance in the future, underlying that the work conditions of the employees will also change. Prof. Dr. Fevzi Okumuş also said that the effect of online data collection, real behaviour measurement, data mining comprehension and technology will take place in tourism research.
Stating the importance of providing services that everyone can benefit from in terms of access, suitability and usability Prof. Dr. Fevzi Okumuş suggested that the new research agendas be handled with entrepreneurship after the pandemic process. Okumuş congratulated University of Kyrenia on taking this issue into consideration and presented his thanks for the invitation.
Delivering the closing speech of the Future of Tourism and Research Seminar, Vice Rector Prof. Dr. Gökmen Dağlı emphasized that as University of Kyrenia they attach importance to the situation of tourism and education after the pandemic. Dağlı stated that they will organize such activities also in the future.
In addition to academics, students also showed great interest in the conference.