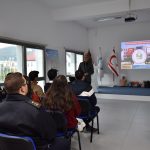 University of Kyrenia Health, Culture and Sports Department organized a 'First Aid Course' for the students with the contributions of Kyrenia Regional Directorate of Civil Defense Organization.
Trainers Korhan Tunçkol and Halil Yıldız accompanied the Director of Kyrenia Region Coşkun Neşesibol at the course organized on Friday, 3rd of January 2020 on campus.
In the first part of the course, Coşkun Neşesibol talked about the units that should be reached in emergency situations, the materials to be used, the intervention stages in accidents, how to ensure environmental safety and also explained the rescue chain by presenting images. Neşesibol also mentioned the current examples and emphasized that it is very important that an incident or accident to be reported to the authorities with accurate and clear information.
Korhan Tunçkol emphasized the importance of rapid and conscious intervention by explaining in detail the basic differences between the practices in adults, children and babies, the first aid stages, heart massage techniques and resuscitation to be applied on training manikin and volunteer participants according to the situation of the injured person.
After the break, the second section included the application of the information explained in the first part on volunteers by the participating students. In the presentation that continued with questions and answers, the types of bleeding, first aid in bleeding and first aid in shock situations, as well as practices such as tourniquet were explained in detail to the participants.
Following the completion of the course, Head of UoK Health Culture and Sports Department Asst. Prof. Dr. Serkan Sancak thanked the Kyrenia Regional Directorate of Civil Defense Organization for their contributions.
Sancak stated that with the support of members of the student clubs such activities will be continued.