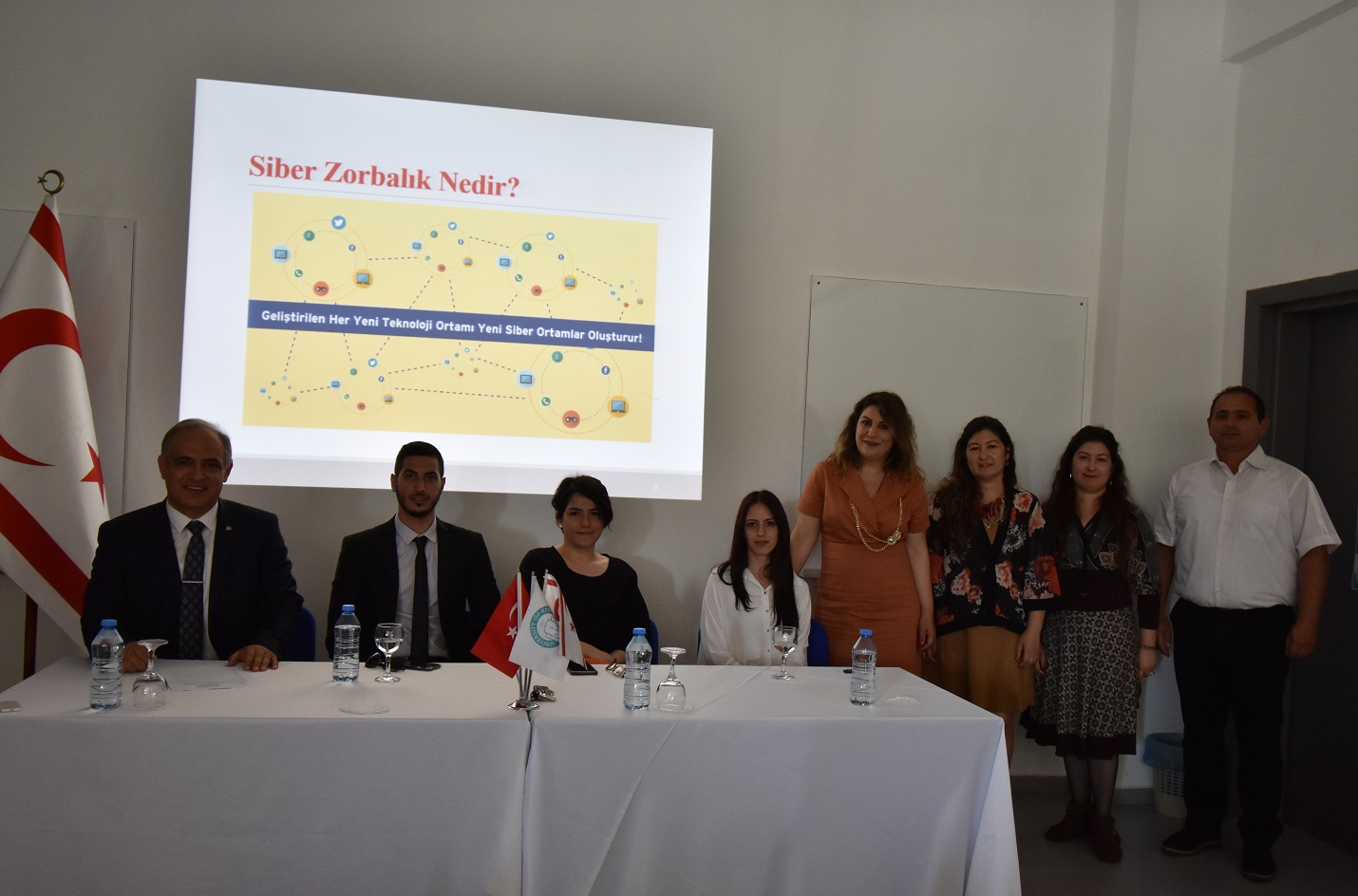 The seminar titled as 'Society and Children in a Digital World' has been organized in cooperation with University of Kyrenia Faculty of Education, Psychological Counselling and Guidance Research Center. The seminar started with a moment of silence followed by the National Anthem, with a strong participation and interest from academicians and students.
" Prof. Dr. Gökmen Dağlı: Digitalization is one of the important concepts of our age "
Dean of  Faculty of Education Prof. Dr. Gökmen Dağlı stated that the main reason for organizing the seminar was the concept of 'digitalization'which is included in the latest UNICEF report. Dağlı stressed that it is very important to inform the teachers and candidates about these aspects. He gave examples on children and the digital world from different societies. Prof. Dr. Gökmen Dağlı stated that this subject should be taught from the start of pre-school period.
Asst. Prof. Vasfi Tuğun made the opening speech of the seminar which has been moderated by Near East University Center of Excellence Social Research and Development Center Co-chairman Prof. Dr. Zehra Altınay. In his presentation titled as 'Cyberbullying' which he has prepared with Asst. Prof.  Ahmet Arnavut, he explained the concept of cyper bullying, types of cyberbullying, the reasons of cyberbullying and why it has become a widespread problem. On the other hand, Ahmet Arnavut shared the global data on the issue and stressed that men are predisposed to this type of  bullying. Arnavut has stated that children are more exposed to cyberbullying and discussed about the duties of parents and instructors.
" Soykurt: Children should use benefits of technology "
Asst. Prof.  Dr. Mutlu Soykurt said that as the use of technological devices starts at an early age people become addicted to technology . Soykurt emphasized that children can benefit from the useful aspects of technology and made suggestions on this issue.
 ''Beyazsaçlı: Our students carried out important activities with children''
Asst.  Prof.  Mehmet Beyazsaçlı talked about their work based on children in Nicosia in his presentation titled as 'Developing Good Skills in Children Under Pressure'. Beyazsaçlı stated that according to the TRNC data, the rates of drugs and robbery are higher than other crimes. Students involved within this study explained the activities they performed with children such as photography, basketball, football, painting, psychodrama, chess, computer, and also how they communicate, how they provide information,  their observations and the results they have achieved.
 ''Bayhanlı: We tried to explain to the children their rights ''
Yağmur Bayhanlı, who illustrated the children's book titled as ''I know my rights'' prepared by the Presidency has been invited to the stage. Bayhanlı, highlighted the importance of children's rights and stated that they were based on the concept of equality in the process of illustration.
Prof. Dr. Zehra Altınay made the closing speech by stating that it is important for educators to be educated on the issues discussed in the seminar. Altınay thanked the contributors and participants.