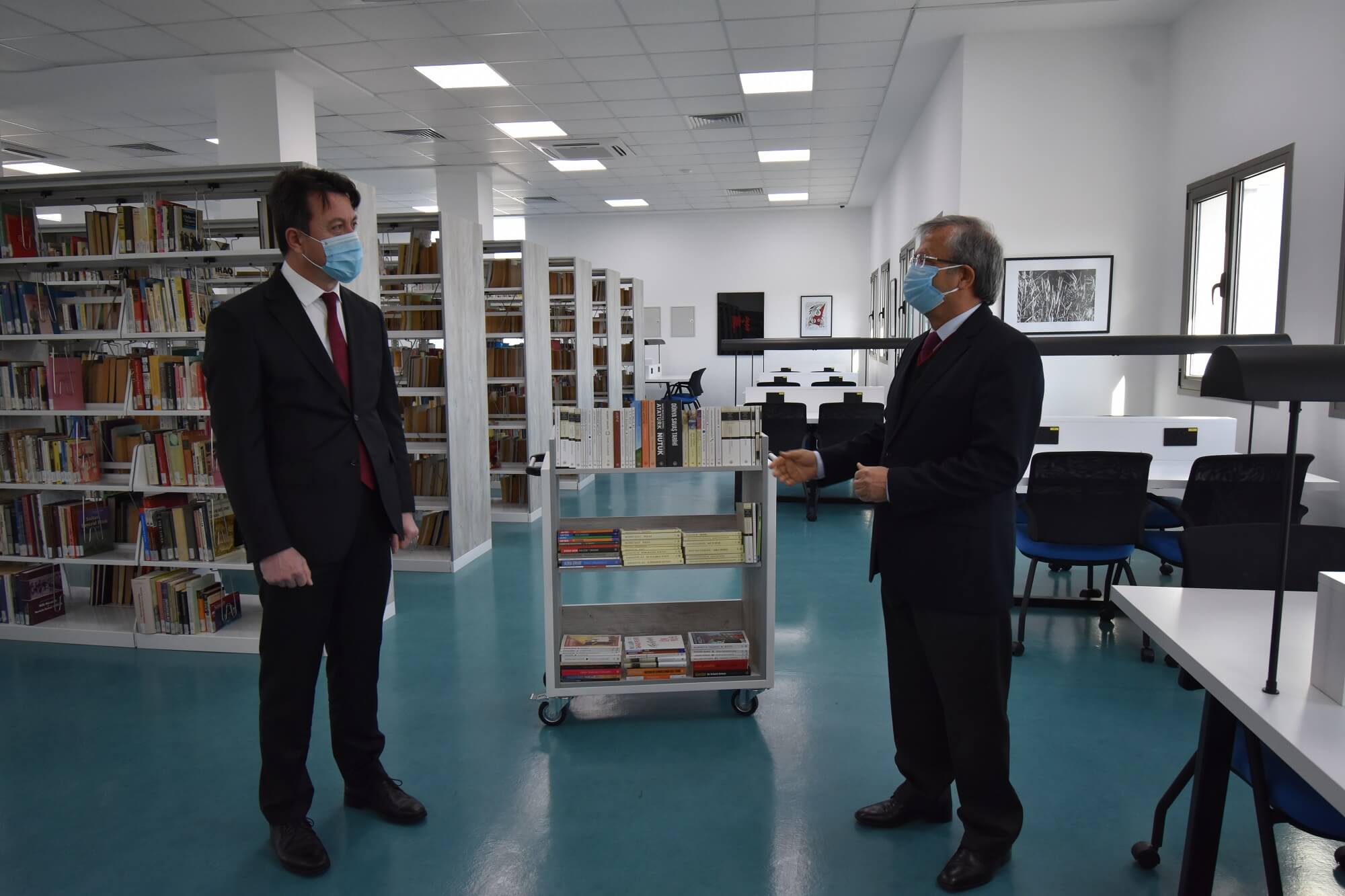 University of Kyrenia Rector Prof. Dr. Salihoğlu accepted the first group of books that donated as a gift by İşbank Turkey to Grand Library from İşbank's Country Manager Serhan Akşahin.
Vice Rector Prof. Dr. Rüveyde Bundak, General Secretary Fehmi Tokay and library staff attended the ceremony during which Prof. Dr. İlkay Salihoğlu expressed his thanks by reminding that İşbank contributed to the library of Kyrenia University as well as in the past.
Salihoğlu stressed that the İşbank is one of the first projects of the founder of the Republic of Turkey, Mustafa Kemal Atatürk, and underlined that the bank has supported the Turkish Cypriot's struggle for their existence on the island.
Rector Prof. Dr. İlkay Salihoğlu stated that he always appreciates and follows İşbank's publications and expressed his satisfaction with such supports they receive to achieve the goal they have set for Kyrenia University Grand Library with its name.
İşbank Country Manager Serhan Akşahin said that for 65 years they are operating in Cyprus.
Akşahin said that they are honored to contribute to the University of Kyrenia Grand Library and their support will continue to increase.
At the end of the ceremony, Prof. Dr. İlkay Salihoğlu presented a plaque of appreciation to Serhan Akşahin, TRNC Country Manager of İşbank, and gave him a tour and provided information
about the Grand Library.
The University of Kyrenia Grand Library offers students and the people of the island access to 500,000 books and 650 million digital resources, as well as has a 350-person lecture hall, reading rooms, individual and group study rooms, an archive and an exhibition hall.