Mustafa Kemal Ataturk, the founder of the Republic of Turkey, was commemorated with respect and gratitude with the ceremony that held at University of Kyrenia for the 79th year of his death anniversary.
Rector Prof. İlkay Salihoğlu, Chief Physician of the Dr. Suat Günsel University of Kyrenia Hospital Prof. Nail Bulakbaşı, Chief Physician of Dr. Suat Günsel University of Kyrenia Dental Hospital Prof. Serap Çetiner , vice rectors of University of Kyrenia, deans, lecturers, university and hospital administrative staff and students attended the commemoration ceremony for Ataturk, which took place at university campus.
The ceremony which was presented by Semih Caliskan, teaching staff of the Faculty of Education and the coordinator of the Distance Education Center, started with a two minute silence at 09:05 followed by the National Anthem.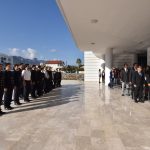 Prof. Ali Efdal Ozkul, director of NEU "Ataturk's Principles and Revolution History Research Centre" and head of the History Teaching Department and a teaching staff of NEU, presented a speech titled as 'Ataturk As A Leader'.
Prof. Ali Efdal Ozkul, stated that Ataturk, who is one of the greatest leaders and a commander that committed to the universal values of humanity, carried his army to success with his military skills and raised his society above the level of contemporary civilization. He stated that what Atatürk did during his 57-years-long life are remembered with great love and respect even after 79 years. Ali Efdal Ozkul also explained the leaders vision and his brave character by giving examples.
Students and staff showed great interest in attending the memorial ceremony and speech for Ataturk as a leader.