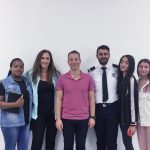 University of Kyrenia Faculty of Aviation and Space Sciences Department of Aviation Management organized a seminar titled as 'Career Navigation in Aviation'.
The Faculty of Aviation and Space Sciences Dean Prof. Dr. Süleyman Tolun, as well as academics and students showed a great interest in attending this seminar. International Air Transport Association IATA lead auditor, consultant and trainer Ferhan Bugay also attended the seminar.
The Head of Aviation Management Department Assoc. Prof. Dr. Nalan Gelirli made the opening speech and stated that Ferhan Bugay has an extensive experience in the aviation industry.
Ferhan Bugay highlighted the importance of personal development and awareness of personal expectations at the beginning of his speech which included topics such as the expectations of the sector from employees, career development opportunities in aviation and future employment opportunities of aviation.
Bugay gave detailed information about the aviation industry, the realities of the industry, the passenger air traffic growth rates and the emerging markets leading to growth.
Emphasizing that there are many different branches of business in the aviation industry, Ferhan Bugay underlined that the employment opportunities are growing compared to the previous years and the Aviation students are fortunate in this respect.
The seminar which was followed with great interest by students and other participants ended with a question and answer section.