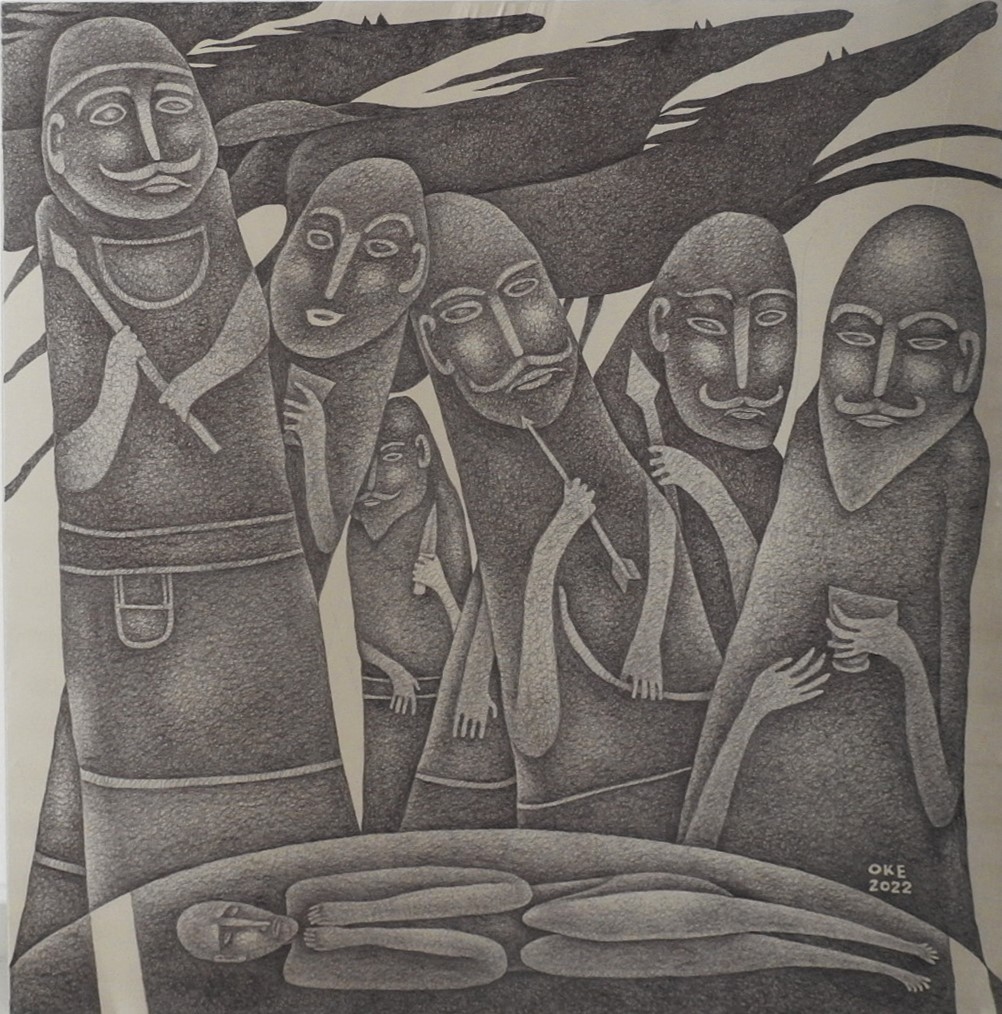 Kazakh artist Orazbek Yessenbayev's solo exhibition titled "Universe", which brings together 45 works of art that he created for the Cyprus Museum of Modern Arts, with the ballpoint pen technique on silk, will be opened on Friday, August 5, at 18.30, by President Ersin Tatar at the Near East University Atatürk Culture and Arts Center. The exhibition will remain open to the public free of charge until 20 August.
In his works, 62-year-old Orazbek Yessenbayev focuses on the culture and history of the Turkish world, nature and human conditions with his unique technique and style. His solo exhibition, which will be opened on August 5, includes his works bearing traces of the same themes.
The works of "Kurgan" and "Shamans and Fire" draw attention in the exhibition to be opened.
In the solo painting exhibition "Universe", which consists of works exclusively made by Yessenbayev for the Cyprus Museum of Modern Arts, "Kurgan", "Shamans and Fire" and "Sacrifice" are among the works that attract attention.
In the work "Kurgan", Yessenbayev depicts the spirit of the ancestors. The artist, who also participated in archaeological research for a while, is inspired by kurgans from the Turkish Khaganate and Huns Periods in this work. The artist's work "Shamans and Fire" carries traces of ancient Turkish culture and beliefs, while in his work "Sacrifice" he depicts Prophet Abraham sacrificing a ram instead of his son Ishmael.
Who is Orazbek Yessenbayev?
Award-winning artist Orazbek Yessenbayev, a member of the Academy of Arts of the Republic of Kazakhstan and the Union of Artists of the Republic of Kazakhstan, was born in Kazakhstan in 1960. After graduating from Gogol Art College in 1983, he worked at the Zhurgenov Almaty State Theater and Art Institute between 1986-1993. He has participated in many national and international art exhibitions since 1980. Orazbek Yessenbayev was presented the Silver Key Honor Award by the Cyprus Museum of Modern Arts in 2019 and the Uluğ Beg Award given to international painting masters as part of the Alasia Awards. The artist was also awarded the Dr. Suat Günsel Gold Medal Honorary Award which was given in the fields of science and art in 2020.