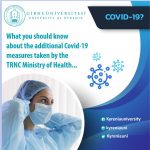 Dear Students,
Due to the increasing number of Covid-19 cases in the TRNC, the Ministry of Health has announced the following additional measures on 26 January, 2021.
The quarantine requirement for all arrivals from all countries has been extended until January 31, 2021(University students traveling to the island from abroad will be quarantined free of charge for 10 days in centers determined by the government)
All face-to-face or in–class education at public/private primary and secondary schools will cease between January 27, 2021, and February 10, 2021. This includes all tuition, private teaching institutions, private lessons and courses. Education will be carried out through distance learning and online. Daycare centres and special needs education institutions are exempt from this rule.
In light of the rise in local cases in Nicosia and Kyrenia, it has been decided that all businesses and establishments (except for the essential services listed below) will remain closed until a re-evaluation of the situation is carried out on February 2, 2021.
• Kyrenia District: from January 27, 2021 (00:01) to February 10, 2021 (23:59)
• Nicosia District: from January 27, 2021 (00:01) to February 03, 2021 (23:59)
Businesses and establishments to remain open/activities to be permitted:
• Pharmacies, petrol stations, bakeries, butchers, supermarkets and other small businesses which provide essential goods and services.
• Restaurants will only be operating takeaway and delivery services.
• Internet service providers, tow truck services.
• Bottled water producers and distributors, supermarket goods distributors.
It has been decided to block all entry and exit from Kyrenia and Nicosia districts. In this period, only officials and persons performing certain professions will be able to enter and exit, provided that they obtain the necessary permissions from the relevant authorities.
A partial day-time curfew will be in place in Nicosia and Kyrenia between certain dates. The partial curfew in Kyrenia will be from January 27(00:01) to February 10 (23:59), while the day-time curfew in Nicosia will be between January 27 (00:01) to February 10 (23:59). The partial curfew will be applied at all districts between January 29 and February 1. Individuals will be allowed to leave their homes to tend to their essential needs such as supermarket shopping or banking but are required to return to their place of residence at the shortest time. A night-time curfew will also be implemented at all districts starting as of January 27 (20:00-05:00).
All activities and mass events such as inauguration ceremonies, receptions, weddings, theatres, birthday parties, mass worship, engagement ceremonies, post-funeral ceremonies, exhibitions are prohibited until further notice.
Individuals/families are advised to refrain from carrying out social visits, gatherings at homes and to limit their contacts to close family.