University of Kyrenia's "International Student Day", organized in the framework of the 2017 – 2018 Academic Year orientation program, took place at the university campus with intense interest and participation of the students.
The event was organized to introduce students to North Cyprus and its culture in the same way to give them the chance to familiarize their cultures. Event was presented by Volkan Varışlı, Marine Engineering Instructor from Faculty of Maritime Studies, Cansu Cibo – graduate student, Cindy Jiri – student of Aviation Management and Çağan Erkol – student of Maritime Transportation Management Engineering (Deck). At the beginning of the English-Turkish bilingual activities, presenters welcomed students and guests in 14 different languages.
After the opening, Sheguna Okechukwu, graduate student from Maritime Faculty's Department of Marine Engineering gave a short keyboard piano concert.
"International Student Day "continued with different activities such as Interactive Shows, Your Music On Air, Quiz Show and last but not least – the most popular event of the day – the Karaoke Contest.
University of Kyrenia students as well as university and hospital staff participated in the Karaoke competition with 25 songs in different languages. The contest winner was selected by an electronic vote via Instagram. Osman Çelik, security staff, took the first place and Makbule Çakır, student from Vocational School of Health Services, had the second place. Özlem Akerler from Faculty of Economics and Administrative Sciences, Hakan Aydeniz and Deniz Taylan from Faculty of Law shared the third place.
In the "Interactive Shows", students had the opportunity to taste Cypriot delicacies such as kolokas and çakıstez. Students from different countries gave information about their country's most popular local dishes. Cypriot culture and life in Cyprus also constituted an important part of the interviews. The main topics of the quiz show were about general knowledge and modern science.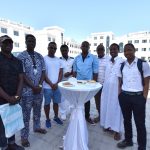 Yoga Instructor Özlem Var's "partner yoga" event received great interest and participants greatly enjoyed and had lots of fun.
University of Kyrenia Music Club members , Makbule Çakır, Can Gürses, Erkan Yücel and Taylan Yanık, performed together with Derviş Paşa, the Manager of Student Affairs Department and audiences accompanied with their dances.
University of Kyrenia Music Club has been actively involved with the related departments of the University at all stages of the activity and students Sami Karataş, Erkan Yücel and Görkem Salih Şeref from Marine Engineering Department worked as juke box operators. Students Rojhat Sincar from Civil Engineering Department and Prince Jim Lawson from Faculty of Maritime Studies took charge in technical support .
During the event, variety of gifts were presented to the participants and refreshments with Cypriot food specialties were served. At the end of the event, students said that they had a great time and they would like to have those kind of social activities more.