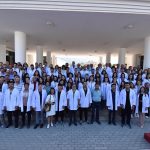 Our 71 newly registered Faculty of Dentistry students for the 2019 – 2020 academic year experienced the excitement of taking the first step of their university life with the White Coat ceremony held on the 1st of October 2019.
University of Kyrenia Rector Prof. Dr. İlkay Salihoğlu, Vice Rector and Dean of the Faculty of Medicine Dr. Rüveyde Bundak, Dean of the Faculty of Dentistry and Dr. Suat Günsel University of Kyrenia Dental Hospital Chief Physician Prof. Dr. Serap Çetiner, Dr. Suat Günsel University of Kyrenia Hospital Cheif Physician Prof. Dr. Nail Bulakbaşı, academic staff of the faculty of dentistry, Head of Institutes, academicians, students and families attended the ceremony held on campus.
The students entered the ceremony with an applause before the national anthem and minute of silence.
Dr. Suat Günsel Girne University Dental Hospital Chief Physician and Dean of the Faculty of Dentistry Prof. Dr. Serap Çetiner made the opening speech at the ceremony and first of all thanked the Founding Rector of Near East University Dr. Suat. İ. Günsel. Çetiner. Çetiner stated that dentistry is a very special profession where art and science are combined and which the acquired skill is exercised on human beings. Çetiner also expressed that she has belief in her students that they will use their White Coats as they should.
Prof. Dr. Serap Çetiner stated that they adhere to the principles of Atatürk by developing the faculty's academic staff, laboratories and practice hospital every year. Çetiner also reminded that dentistry requires a wide range of education and wished the students success.
After a while Rector Prof. Dr. İlkay Salihoğlu made a speech and stated that they are trying to offer all kinds of opportunities to prepare young people for life in dentistry as in other branches. Salihoğlu underlined that a strong academic staff and infrastructure is provided within the university and faculty, but students should also work hard during and after the 5-year education period.
At the end of the ceremony 71 students who attended the University of Kyrenia Faculty of Dentistry wore their white coats and recite their oath altogether.
The ceremony full of exciting and emotional moments ended with a photo shoot.