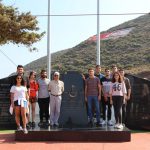 University of Kyrenia Maritime Club organized a cultural trip to Erenköy.
Faculty of Maritime Studies Lecturer and Erenköy veteran soldier and Oceangoing Master Enver Yetkili and Erenköy veteran soldier Ahmet Yıldırım accompanied the students who showed great interest in the trip.
Students who participated stated that it has been a very important experience to listen to the history of the Erenköy military landing and information about what happened during that period directly from the witnesses.
Students also expressed that they are pleased to participate in such activities and that they desire for more activities to take place.