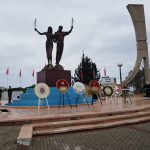 University of Kyrenia, Head of Health, Culture and Sports Department Asst. Prof. Dr. Serkan Sancak accompanied a group whom attended the ceremony held at Limassol-Kyrenia Martyrs and Freedom Monument in Kyrenia on Thursday, 13th of February for the Limassol Resistance and Martyrs.
The ceremony, which includes representatives of associations, institutions, schools and universities, as well as military and civil authorities started with the placing of wreaths at the monument according to the protocol order.
The ceremony, which continued with a moment of silence followed by the National Anthem, ended with the poems read by students and speeches indicating the meaning and importance of the day.