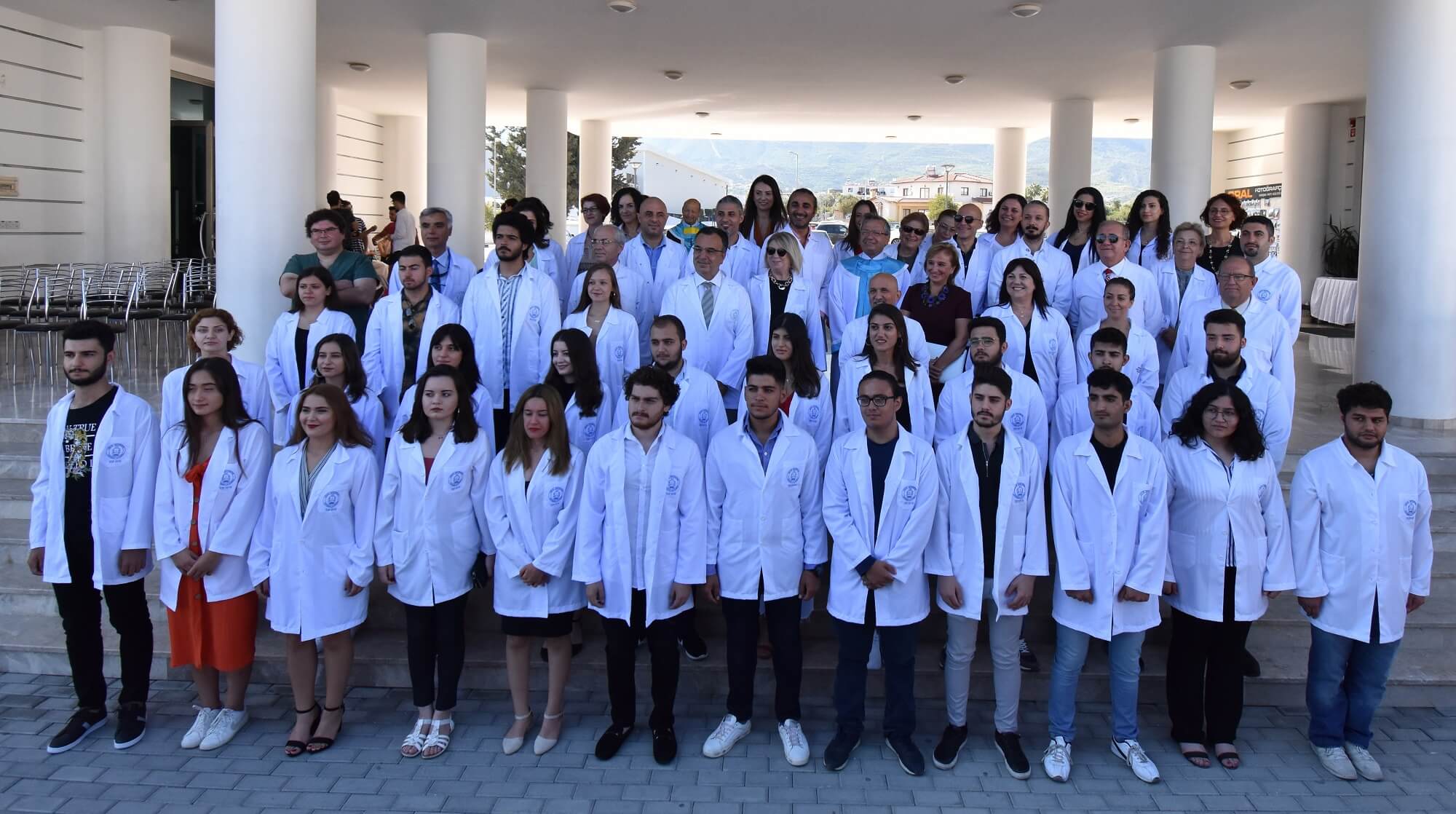 University of Kyrenia Faculty of Medicine organized the 2019 – 2020 Academic Year White Coat Ceremony for our new students.
The Member of Higher Education Planning, Evaluation, Accreditation and Coordination Council (YÖDAK) Prof. Dr. Hasret Balcıoğlu, University of Kyrenia Rector Prof. Dr. İlkay Salihoğlu, Vice Rector and Dean of the Faculty of Medicine Dr. Rüveyde Bundak, Vice Rector Prof. Dr. Gökmen Dağlı, Chief Physician of Burhan Nalbantoğlu State Hospital Dr. Adil Özyılkan, Head of Institutes, Head of Vocational Schools, Chief Physicians, academicians, students and families attended the ceremony held on campus.
The students entered the ceremony with an applause followed by a minute of silence and the national anthem at the start of the ceremony which was presented by Asst. Prof. Dr. Özge Çakır.
Dean of the Faculty of Medicine Prof. Dr. Rüveyde Bundak made the opening speech and stressed that although University of Kyrenia Faculty of Medicine was established recently it has made a difference because it consists of experienced academic staff in their field and also provides practical training and research opportunities with the use of Dr. Suat Günsel University of Kyrenia Hospital.
Referring to the meaning of white coat for doctors, Bundak advised candidates not to forget the responsibility of this coat throughout their professional lives. Prof.  Dr. Rüveyde Bundak emphasized the importance of being inquisitive, respecting ethical values ​​and following intelligence and science as the sole guide.
The Rector Prof. Dr. İlkay Salihoğlu started his speech by greeting the guests and underlined the importance of the profession they have chosen to study by taking the first step with this special ceremony and emphasized that our society has successful physicians which set a good example. Salihoğlu expressed the belief that the new students who will be trained by expert academic staffs will experience the pride of students who graduated in the previous years and their families.
Prof. Dr. Hasret Balcıoğlu member of the YÖDAK Board of Management, expressed the warm atmosphere she has felt every time she has visited University of Kyrenia and also reminded that the medical profession do not accept mistakes.
Stating that it is a pleasure to see the excitement of students and their families, Balcıoğlu said that as an institution, they are open to exchange views. Prof. Dr. Hasret Balcıoğlu reminded that medicine requires dedication and patience and also expressed her happiness to attend the ceremony.
The ceremony continued with the students white coat ceremony and they recited their oath altogether.
The first lecture subject titled as ''Good Physician' presented by Prof. Dr. Füsün Yıldız attracted the attention of the students and guests. Yıldız explained how the concepts of good people and good physicians overlap, and also gave important information and advice to candidates about their career paths.
The ceremony full of exciting and emotional moments ended with a group photo shoot.