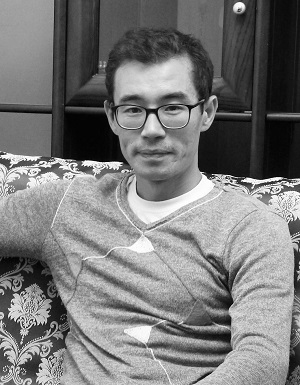 Due to the spread of the new type of coronavirus (Covid-19) around the world, artists and sculptors are continuing to support the fight against the coronavirus with their artworks in painting, ceramics, print painting and sculpture.
According to the press information provided by the Press and Public Relations Directorate of Near East University, sculptor Bagdat Sarsen stated that the statue consists of two parts as a closed sitting figure and a checkered plinth. The artist with his sculpture depicted the difficulties caused by the restricting space (quarantine) and the pandemic process we are in, which is a bad dream, so the figure raises his head up and prays God for the end of the bad dream.
The artist Bagdat Sarsen also spoke about his artwork; "The square shape of the base is repeated in the angular shape of the seated person. Plastic stylization and bright parts reflect the general hope. "
In the press statement released by the Cyprus Museum of Modern Arts, it was stated that every day a different artist will continue to share a different artwork, reflecting the struggle against the coronavirus, from different perspectives.
Who is Bagdat Sarsen?
He graduated from Kazakhstan A. Kasteev Art College in 2005. In 2019, he completed his education at T. Zhurgenov Kazakh National Art Academy. In 2018, he participated in the art contest titled "Youth, energy, future". In 2017, he participated in an art exhibition of the Union of Artists of the Republic of Kazakhstan at the A. Kasteev Museum. In 2014 and 2015, he attended international ice sculpture symposiums in St. Petersburg and China. In 2011, he participated in Kazakhstan Art Week held in Almaty city. He participated in the National Sculpture Olympiad in 2010.