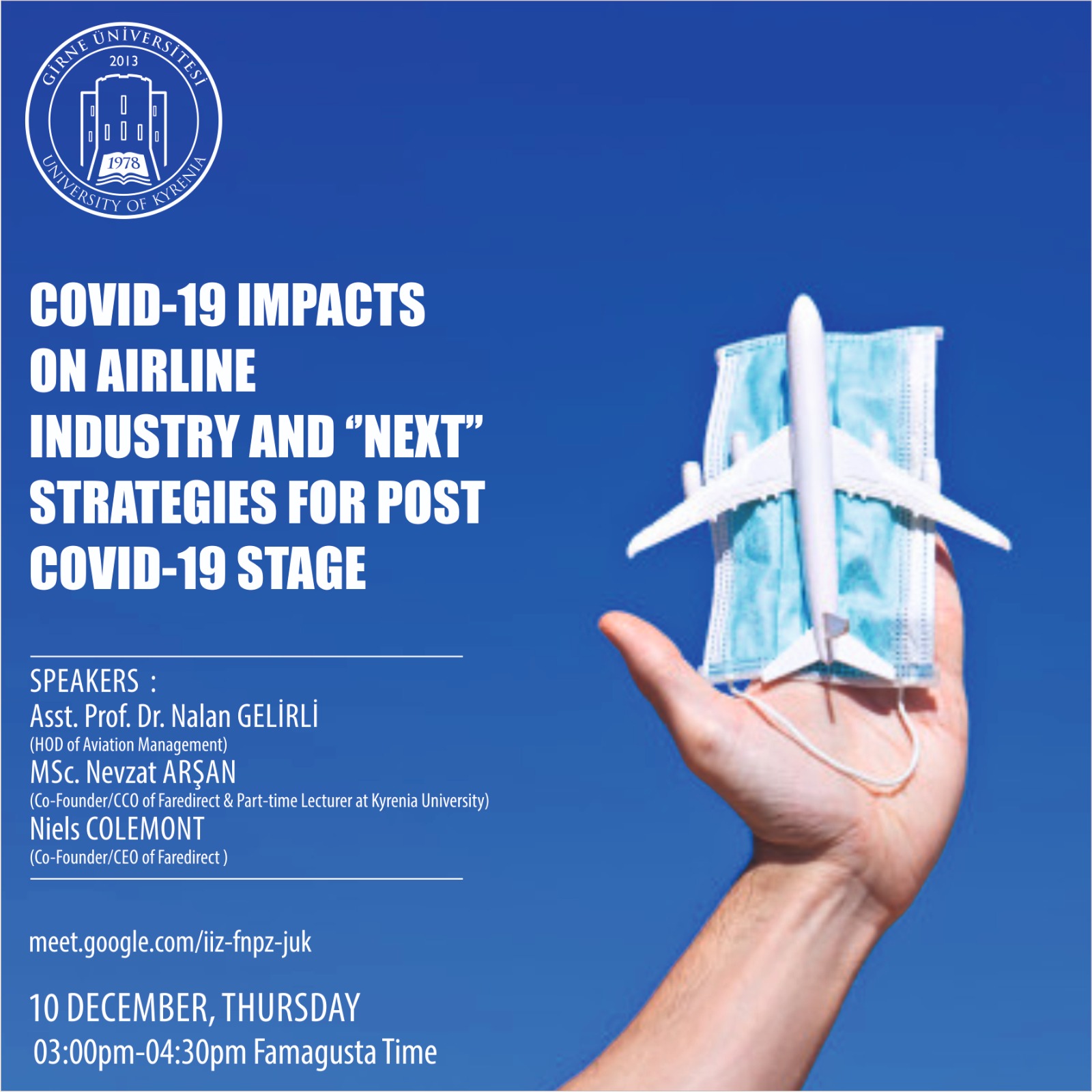 "Covid 19 Impacts on Airline Industry and Next strategies for Post Covid-19 Stage" Panel organized by University of Kyrenia Faculty of Aviation Space Sciences Aviation Management Department on 10th December 2020.
Head of Aviation Management Department Asst. Prof. Dr. Nalan Gelirli, Co-founder and CCO of Faredirect and Part-time lecturer of UoK MSc. Nevzat Arşan and Co-founder and CEO of Faredirect Niels Colemont attented the panel as speakers in which academicians and students showed interest.
At the opening speech, Nalan Gelirli mentioned the Pandemic period and its effects on aviation industry.
MSc. Nevzat Arşan during his speech described Covid as the biggest crisis in the aviation industry which is now shaping the future of aviation, also shared past and current statistics and reminded the fact which mentioned also in IATA's reports that airlines cannot survive without any income more than couple of weeks.
Arşan said that with the help of vaccination, recovery process would start for industry, which will take at least 6 to 7 months. Stating that other fields in relation with the airlines facing the same negative consequences, MSc. Nevzat Arşan reminded also the external effects such as governments decisions that changes daily and due to this reason airlines are unable to make demand schedule.
Niels Colemont underlined that aviation industry is in the hardest period in its existence and talked about the positive signs that showed up after mass corona virus vaccination launched in some countries. Colemont mentioned that people started to make travel plans for the summer of 2021 and the post-pandemic process will be very different from the past.
Colemont also said that after Covid-19 airlines left with large number of airplanes, which are not operational and therefor companies to cope with the last minute schedule changes have send their planes even to deserts in long-term storage.
Nalan Gelirli stated that after this unexpected period we are facing companies should change their business model and approach. Gelirli said because of the financial loses that in general occurred due to the pandemic airlines companies' future spending amounts and demands will be different than the past.
During the panel Pablo Amayo, senior manager of Revenue Strategy Aero Mexico, asked questions and shared his own views.
At the end of the panel, speakers also answered questions of participants on what will be the new expectations of customers, different equipment that airlines will demand and other subjects.