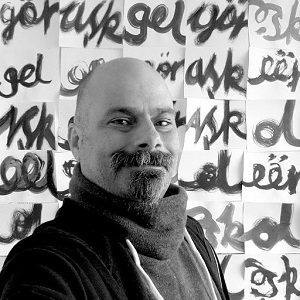 As the new type of coronavirus (Covid-19) isolate people around the world, artists continue to share their artworks to draw attention to the epidemic and support the struggle from a different perspective. In this context, artist and academician Dr. Gökhan Okur tried to explain the process we are in due to the Covid19 virus outbreak in three printed images.
According to the information provided by the Press and Public Relations Directorate of the Near East University, the artist Okur emphasized that the Covid-19, which he used as both emotion and image, will continue to affect life for a long time in his printing paintings, apart from his graphic notes.
Okur; "This may be the start for unity for the people."
Artist-academician Dr. Gökhan Okur said: When I think, "When wars end in the world," – of course, with a certain influence of science fiction movies – the unification against a global threat coming outside of the planet we live in has been the answer. We, humans, are creatures living with the mentality never to stop fighting. We will always continue to fight. In this period, we have seen photographs of people wearing a mask while shooting at the other person with a gun. Since our ways of fighting are structured against each other, the superpowers of the world have been defeated by this small form of life, neither advanced warfare technologies nor rambos have succeeded. I think it might be a beginning for the unity"
Okur; "It should provide more resources to education, science and art"
Okur; "Everything will be different from now on, I think it should be different. Now, instead of allocating resources to armament, more resources should be allocated to education, science and art. I think that international relations should be developed not only on certain subjects but also in order to create a common world culture, belief and behavior. During the pandemic, the virus has affected all areas of life, also affecting art and design. The virus has affected the works of academician artists and designers who are working in our country and in our university as well as in the art world. The effects of Covid-19 have been reflected on the physical images of artworks during this period."
Who is Gökhan Okur?
He was born in Ankara in 1969. He completed his primary and secondary school in Ankara and high school in Istanbul. Immediately after graduating from Trakya University, Edirne Technical Sciences Vocational School, Department of Restoration, he entered Hacettepe University, Faculty of Fine Arts, Department of Graphic Design. He worked as a research and lecturer at Hacettepe University, Faculty of Fine Arts, Department of Graphics between 1998 and 2006, where he completed his undergraduate programs in 1995, MA program in 1998 and proficiency in arts in 2010. Since 2006, he has been carrying out his academic studies as a lecturer at Near East University, Faculty of Fine Arts and Design, Department of Graphic Design. His artworks have been included in national and international group exhibitions. Gökhan Okur, who has held three solo exhibitions, attended seminars and workshops and took up positions as an executive and committee member. He designed the Visual Identity System of Fazıl Küçük Museum.