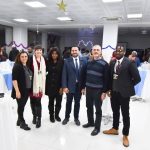 University of Kyrenia International Office has organized the International Student Night.
Many students attended the event which University of Kyrenia Rectorate, General Secretary, Head of Health, Culture and Sports Department, and Head of Communication and Corporate Relations contributed to this event.
The event started with the opening speech, followed by a dance competition, musical chairs competition, charades and New Year's raffle, which also continued with fun moments including activities such as the music performance of students.
Participating students expressed their desire for such activities to be continued.