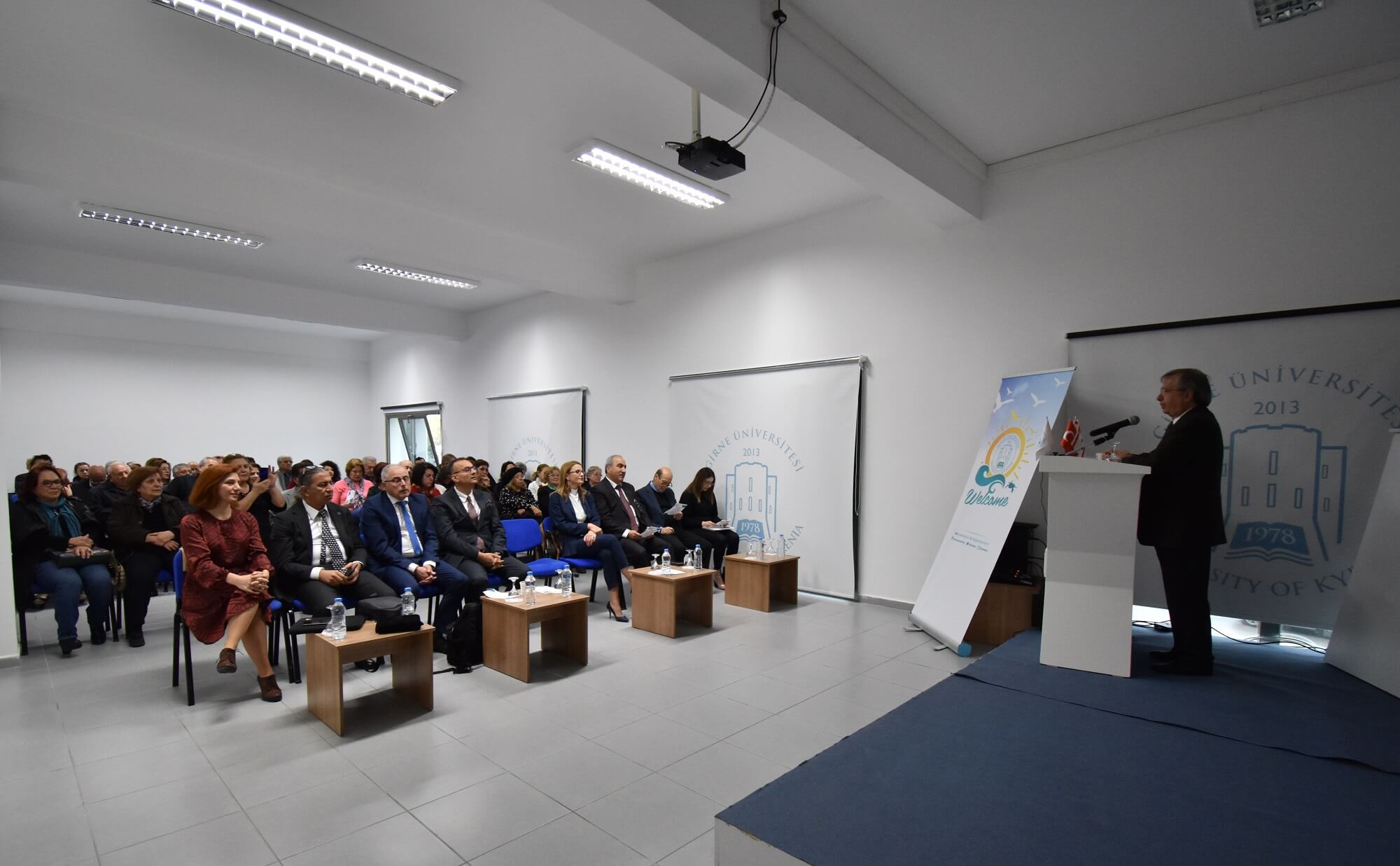 The III. International Aging People and Society Symposium was held on Wednesday, 19th of February at 09:30 on campus under the leadership of University of Kyrenia 60+ Refreshment University.
University of Kyrenia Rector Prof. Dr. İlkay Salihoğlu, Prof. Dr. Zeynep Onur from Near East University, 60+ Refreshment University Coordinator Asst.Prof.Dr. Emete Toros, Vice Rectors, General Secretary Fehmi Tokay, Deans, Academicians, students of 60+ Refreshment University and other faculty students attended the symposium.
"Prof. Dr. İlkay Salihoğlu: 60 + Refreshment University increases the number of participants "
Rector Prof. Dr. İlkay Salihoğlu started his speech by saluting the participants and thanked those who contributed to the symposium, stating that 60+ Refreshment University has increased the number of participants and activities since its foundation. Salihoğlu also noted that he would like to thank the Günsel family who supported the program.
''Specialist Dr. Melih Vural: There is a delay of 15-20 years in the diagnosis of Alzheimer's with the classical western medicine method''
Neurology Specialist Dr. Melih Vural in his presentation titled as 'Alzheimer, is it the end of life?, stated that the disease in question is one of the ailments caused by the death of brain cells in older ages.
Specialist Dr. Melih Vural stated that Turkey has currently 350 thousand Alzheimer's patients, and the number of dementia cases has reached 1 million. He also emphasized that the figure is expected to triple for 2050.
Vural noted that the diagnosis was delayed around 15-20 years due to the method followed by classical western medicine, and although some positive developments were seen in some treatment studies, he stated that there were only 2 drugs in use and underlined that vaccination studies were not continued because of the lack of results.
Vural stated that factors such as having a family member diagnosed with the disease, obesity, sleep apnea, and limited exercise increases the risks, and emphasized that treating these conditions is important in preventing Alzheimer's. Specialist Dr. Melih Vural also stated that medicines used for some diseases may also have negative effects, and advised to avoid heavy metals, pesticides, cigarettes, sugar, aquaculture products and malnutrition.
Dr. Melih Vural recommended the Ketogenic diet and Mediterranean diet, emphasizing that we should pay attention to the health of the intestine known as the 2nd brain.
"Prof. Dr. Bernd Seeberger: An age-friendly culture needs to be created "
Prof. Dr. Bernd Seeberger, Chairman of University of Hull Gerontology and Demography Department started his speech titled as 'Gerontology – An answer for the community' by stating that he is happy to be in Cyprus for the first time.
Explaining the concept of gerontology, Seeberger stated that studies in this direction started in Europe in the 1970s. Dr. Bernd Seeberger underlined the need to take care of elderly people seriously and to create social programs related to the subject, and also emphasized the sociological and cultural reflections of aging, the perspective changing from society to society and the impact of demographic differences.
"Asst. Prof. Dr. PT. Özge Çakır:. Qi-Gong; it is a type of exercise that supports mental and physical well-being "
60+ Refreshment University educator and Head of UoK Faculty of Health Sciences Physiotherapy and Rehabilitation Department Assist. Prof. Dr. PT. Özge Çakır referred to the concept of quality aging in her presentation titled as "The Effects of Therapeutic Qi-Gong exercises in Quality Aging". Underlining the importance of stress management and an active life, Physiotherapist Özge Çakır reminded that there are exercieses that stand out with complementary and alternative medicine. Stating that Qi-Gong is a 7000 year traditional Chinese exercise, Asst. Assoc. Dr. PT. Özge Çakır emphasized that this is being taught for the 60+ Refreshment University.
Asst. Assoc. Dr. PT. Özge Çakır stated that it is known that long-term exercise of this type of exercise has positive effects on the preventetion of depression and anxiety, strengthening the immune system, and protection from diseases with the effect of reducing stress hormones, also noted that the feedback of the lessons was positive and that they would share the long term data in the future.
Özge Çakır explained the main stages of Qi-Gong, and then performed the practices together with the participants which attracted great attention.
"Prof. Dr. İsmail Tufan: We care about older individuals to feel themselves as a part of society "
Chairman of Akdeniz University Faculty of Health Gerontology Department and Founder of 60+ Refreshment University Prof. Dr. İsmail Tufan made an interactive presentation titled 'Theoretical Structure of 60+ Refreshment University'.
Based on the observations he has made since the creation of the program, Tufan elaborated on the examples of the reasons that attracted the participants and the reasons for participating with high motivation.
Tufan stated that the reality of the 20th century is aging societies and those who ignore this unavoidable situation will face social problems. Tufan also stated that future studies should be done on issues such as intergenerational dialogue and solidarity, as well as the aging and need for care of aging.
Prof. Dr. İsmail Tufan underlined that a sedentary and isolated life is more risky for older individuals, but on the contrary they consider it important to feel themselves as part of society.
Speaking at the end of the symposium, Asst. Prof. Dr. Emete Toros stated that the 60+ Refreshment University new semester will begin on Monday at15:00, 2nd of March 2020 on campus.
The III. International Aging People and Society Symposium ended with the presentation of a certificate of appreciation to the speakers for their participation.