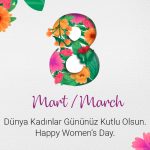 International Womens Day Message of Rector Prof. İlkay Salihoğlu
Our Honorable Women,
As Mustafa Kemal Atatürk says: "Women will walk together with men in social life to support each other. " If you empower a woman, you empower a whole society. Women make the world go round. As a person who believes in this philosophy all through my life and academic life I've walked side by side with you.
Every woman is the symbol of creativity and eternal love. With this opportunity I would like to wish you all Happy Women's Day.
Warm Regards,
Prof. İlkay SALİHOĞLU
Rector