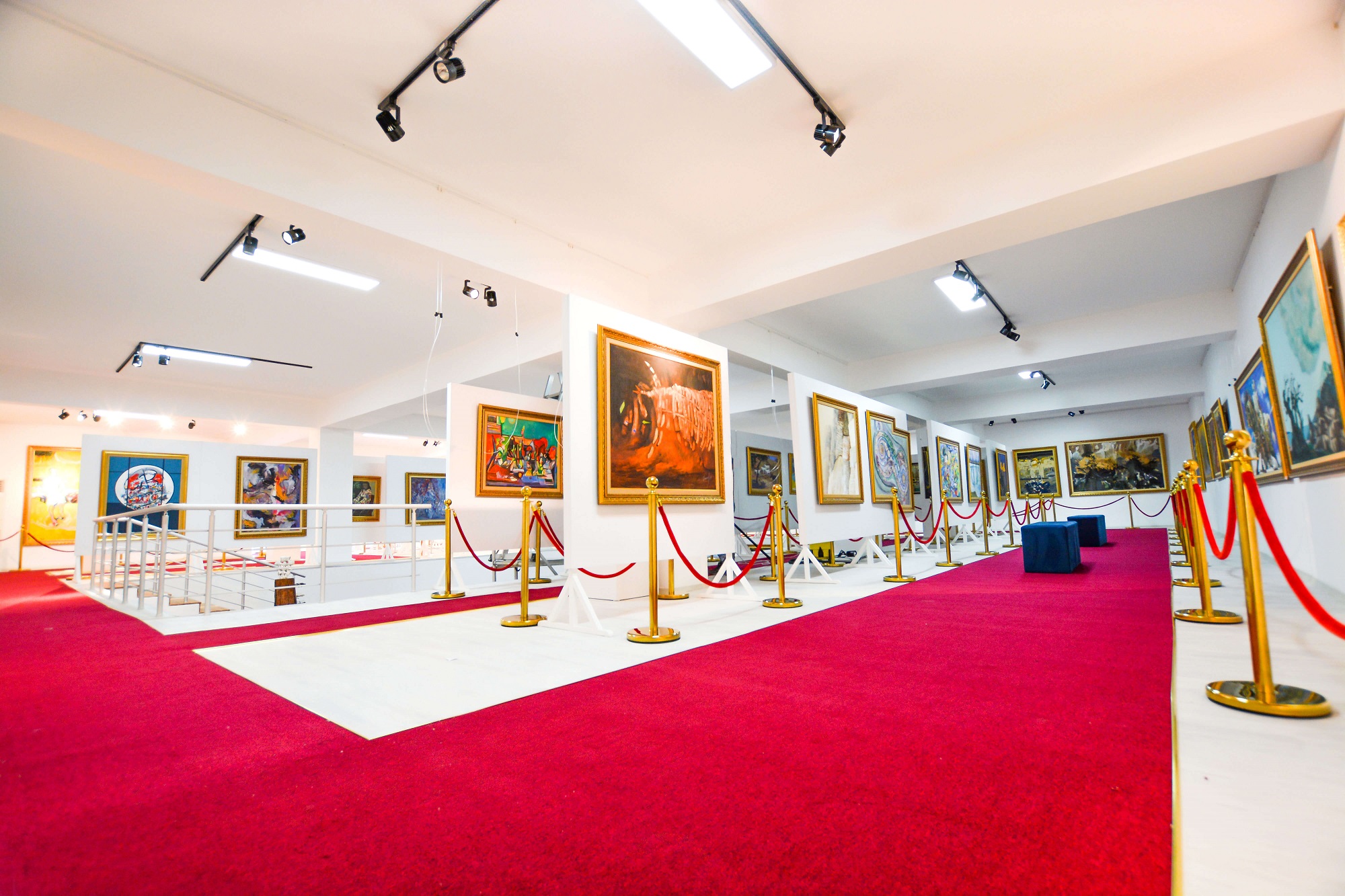 It was announced that the Cyprus Museum of Modern Arts, Cyprus Car Museum, Cyprus Herbarium and Natural History Museum, which are located on the Museums Zone of Near East University campus, as well as Günsel Art Museum at Dereboyu could be visited free of charge until the end of August.
The Directorate of Press and Public Relations Office of Near East University released that the Cyprus Museum of Modern Arts, which is the first modern art museum of the Turkish Republic of Northern Cyprus (TRNC), Cyprus Car Museum, which is TRNC's only car museum, Cyprus Herbarium and Natural History Museum, as well as Günsel Art Museum in Dereboyu could be visited free of charge during weekdays between 10:00-13:00 hours from 20 July until the end of August.
Glamorous works are on display…
Since the day it was opened, the Cyprus Museum of Modern Arts, which is situated opposite the Cyprus Car Museum at the Museums Zone on the Campus of Near East University, has been hosting group and solo exhibitions of artists from different countries. Many artworks consisting of not only paintings that created by using different techniques such as acrylic paint, oil paint, spray paint and airbrush paint but also drawings, wood-carving, marble-ceramic sculpture, clay sculpting, metal sculpting, and handmade hunting are exhibited in the museum.
A collection consisting of modern works…
Sharing the same building with Günsel Promotion Office that established in Dereboyu for the promotion of the first domestic and national car of our country that produced by Near East University, Günsel Art Museum has a unique collection of artworks consisting of oil paintings, acrylic paintings, original prints, engravings, linoleum, silkscreen, lithographs, wood-cut paintings, sculptures and ceramics.
Classic and sports cars are dazzling…
Near East University Car Museum, which stands out as the first and only car museum of Cyprus, showcases a blend of rare classic and sports car belonging to 19th, 20th and 21st century and attracts great interest of the visitors and dazzle them. The museum with its rich collection of rare classic cars including the first models of world brands such as Mercedes, Ford, Ferrari and BMW makes it possible for the visitors to feel as if they were in a time tunnel watching the voyage of these brand cars from the time they launched to the present day. The museum houses not only the rare cars that produced first across the globe and remained our days as unique examples of their kinds but also many legendary vintage sports cars. Among these legendary cars, 1899 model Crest Mobile, which is the only sample of its brand in the world, 1903 model Wolseley, 1909 model Buick, 1949 model Jaguar XK120, which exceeded 300 km per hour for the first time, Lamborghini Murcielago Roadster, which is the final variation to wear the Murciélago nameplate, and Dodge Viper SRT10 Final Edition are in the limelight.
Alongside the classical and sports cars, each of which is a milestone in automobile sector, the meeting room designed by using original aircraft parts also attracts great interest.
More than 20 thousand samples of plants and living things…
Those, who are willing to visit the Herbarium and Natural History Museum, which houses 11 thousand distinctive samples of 1500-1600 plants species available in Cyprus, fungi varieties, insect species, various reptile species, sea creatures and materials relevant to Cyprus Geology, are required to make an appointment by calling +90 392 680 20 00/ 5135 phone number.
106 types of fungi belonging to 3 different families, 250 species of water moss, 23 reptile species and insect species belonging to different taxonomic groups constitute the unique collection of the museum, which also houses 140 plant species specific to Cyprus flora and 19 plant species indigenous to the Five Finger Mountains in North Cyprus.