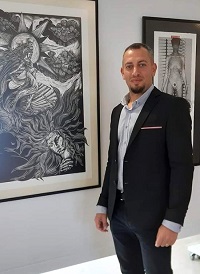 Artist Selçuk Yalovalı, Visual Arts instructor and teacher of the Near East Elementary School, depicted the fight against the Covid-19 outbreak through his print painting artworks titled "Epidemic – Beginning", "Epidemic and Dance" and "Back to Nature" (Going Back to Nature)".
Artist Yalovalı, in his artwork titled Epidemic – Beginning, depicts the king who is whispering herring about the outbreak that will be caused by a creature coming from darkness, according to Japanese mythology.
In Epidemic and Dance, it is depicted that, "Today's human is detached from nature. He continues his life between the walls. But the cycle of extinction and rebirth continues in nature. It reminds the person who forgets this cycle of nature with various outbreaks. The work of art describes the return of man to his roots with nature and his acceptance that he is part of that cycle. Dancing human figures reflect the combination of brightness and hope of people's struggle against diseases for centuries."
In the work called Going Back to Nature, the story is; "The epidemic has been overcome. Human beings have realized that they are part of the cycle of extinction and rebirth in nature and have realized their fragility. He started to see himself as a whole with all the beings in nature."
Who is Selçuk Yalovalı?
The artist was born on September 6, 1984, in the Köşklüçiftlik district of Nicosia. After completing his primary school in Şehit Ertuğrul, he entered the talent exam and obtained the right to enroll in the Nicosia Fine Arts Secondary School. Then, he continued his education in Turkey, Ankara Anatolian Fine Arts High School. During this period, his paintings took place in the group exhibition organized by Ankara Chamber of Industry. Selçuk Yalovalı, who continued his education in Ankara, graduated from Gazi University Faculty of Fine Arts, Department of Painting in 2006. Selçuk Yalovalı, who started to work as a visual arts teacher at the Near East Primary School in 2008, still continues his duty. Selçuk Yalovalı, who continues his painting studies throughout his education and work life, was awarded at a bi-communal human rights painting contest organized by the Turkish Cypriot Human Rights Foundation in 2010. He took part as a jury in the painting competitions organized by the Turkish Cypriot Chamber of Industry, T&T Airport management and İş Bank and Rüstem Bookstore. The artist, who accelerated his studies with the establishment of the Cyprus Museum of Modern Arts, participated in many exhibitions within this scope. Some of the exhibitions he participated in are Exhibition of the Republic, Tribute to art in memory of Ismet Vehit Güney, Near East University National War Exhibition, Turkey Artists Exhibition, and Near East Artists Group Exhibition.