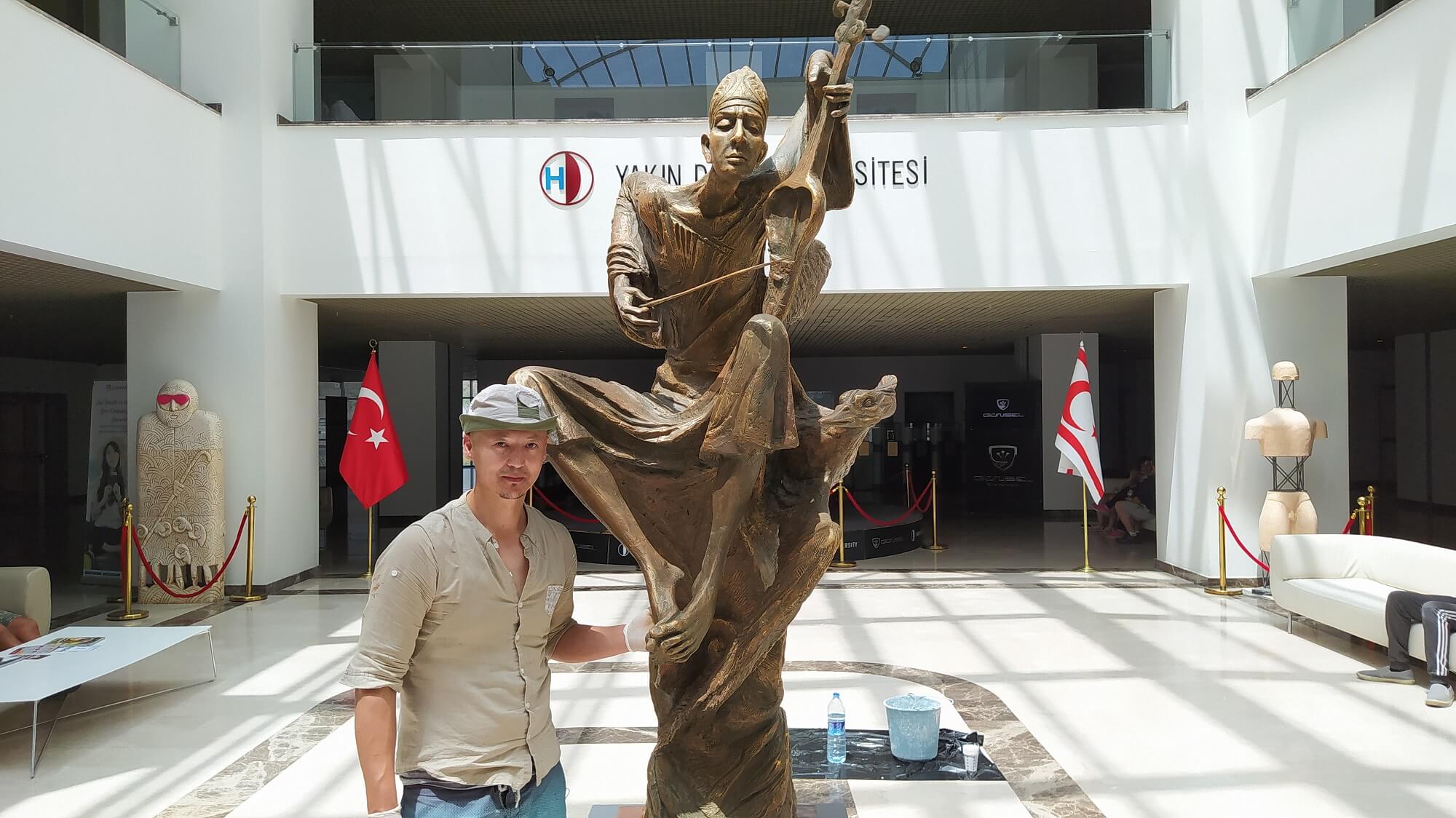 Sculptor Tolkunbek Esenaliyev presented the sculptures "Musician" and "Miss Cello" for the Cyprus Museum of Modern Arts to art lovers.
Sculptor Tolkunbek Esenaliev from Kyrgyzstan, in his creative work "Miss Cello", depicted a girl who gently touches a musical instrument and sits proudly in front of her instrument, standing upright. In this sculpture, the artist offers the audience the opportunity to see and feel the beginning of a new musical performance. In "Miss Cello", the artist depicts a girl sitting with her eyes closed. Her closed eyes symbolize her delight in stealing her favorite instrument. Tolkunbek Esenaliev was interested in classical music for many years and was influenced by the works of famous classical composers. The artist believes that musicians can convey their moods through music. For this reason, Tolkunbek has presented two different works of art dedicated to musical creativity.
In his other work, "Musician", Tolkunbek depicts a less experienced, delicate young girl compared to his previous work. The timid and excited attitude of the young girl makes her feel that she will perform a musical performance for the first time in front of the audience. The musician is very proud and noble before going on stage, despite all her worries. The fluffy hem of the dress symbolizes the strong character of the girl.
Who is Tolkunbek Esenaliyev?
Born on 20 August 1984, the Kyrgyz artist graduated in 2008 from T.S. Sadykov National Art Academy of the Kyrgyz Republic. He worked as a lecturer at the N. Isanov State University of Construction, Transportation and Architecture between 2011-2014 and as a sculpture teacher at the G. Aitiev Art School between 2015-2017. He participated in the "Manas universe" competition exhibition held in Bishkek in 2013. In 2014, he participated in the art exhibition "Father is always in my heart", featuring young artists.