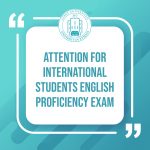 Dear International Students,
The students who will take English Proficiency Exam, need to send an email to uzem@kyrenia.edu.tr with their names, surnames and student numbers by the latest 30 March 2020 until 17.00 pm.
The exam will be online and will be held on 31 March 2020. (Students from Nigeria and Zimbabwe are exempted).