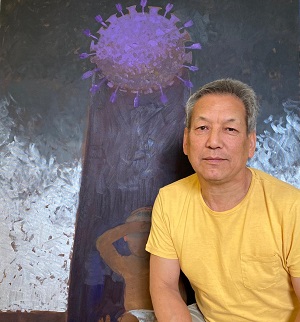 Due to the spread of the new types of coronavirus (Covid-19) worldwide, artists continue to reflect the epidemic and struggle on their canvases.
According to the information given by the Press and Public Relations Directorate of Near East University, artist Zhyrgalbai Maturaimov drew attention with his brush to the fight carried out against the coronavirus pandemic, which has caused severe fear and anxiety in the world and cost hundreds of thousands of lives.
In the statement, it was stated that artists will continue to share their feelings with their artworks from different perspectives to support the fight against Covid-19 and a different artist will continue to share his or her artworks every day for the Cyprus Museum of Modern Arts.
Who is Zhyrgalbai Maturaimov?
He was born in Kyrgyzstan in 1955. He studied at the State Cinematography Institute in Moscow between 1978-1984. He studied at Frunze Art College between 1970-1974 (Bishkek). Between the years 1984-1988, he worked for the film studio "Kırgızfilm" in Bishkek. Between 2013-2018, he worked as a director at Kyrgyz State S. A Chuykov Art College. He is a participant of national and international exhibitions. He is a member of the Union of Artists of the Soviet Socialist Republics and the Kyrgyz Republic. Since 2007, he is a State artist of the Kyrgyz Republic. In 2013, he received the title of World Artist in China. The artist has held many solo exhibitions:
2007 – Directorate of Art Exhibitions, Almaty, Kazakhstan;
2006 – Kyrgyz State G. Aitiev Fine Arts Museum, Bishkek, Kyrgyzstan;
2005 – Painters Town, Paris, France;
2003- "Tribune" Art Gallery, Almaty, Kazakhstan;
1999 – Bishkek National Bank, Kyrgyzstan
1988- International Aid Fund "Meerim" Bishkek, Kyrgyzstan.
His artworks take place in the Local History Museum; Museum of Fine Arts of Kazakhstan; T. Sadykov Fine Arts Museum (Kyrgyzstan, Aktobe); Cultural Exchange Center of "Travel for Peace" (People's Republic of China).