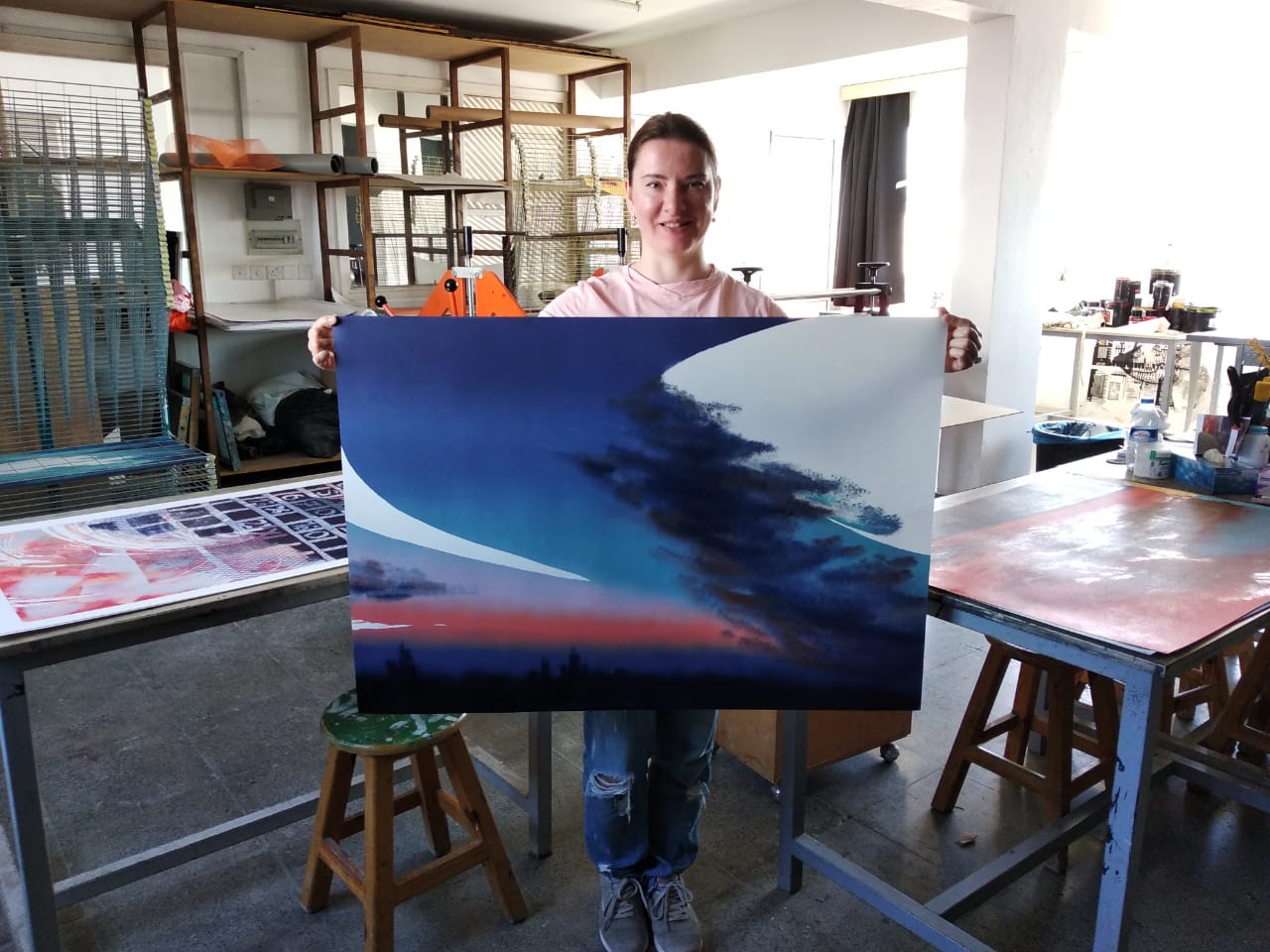 Due to the spread of new types of corona virus (Covid-19) worldwide, artists continue to paint to draw attention to the epidemic and support the struggle from a different perspective.
According to the information provided by the Press and Public Relations Directorate of Near East University, artist Tetiana Ocheredko supported the fight against the coronavirus with her brush, which caused great fear and anxiety in the world, causing the death of more than 180 thousand people, and expressed her sadness.
Artist Tetiana Ocheredko said that we need to pay utmost attention to the calls and warnings of the authorities during this challenging period stay home to stay healthy. In the statement, it was reported that for the Cyprus Museum of Modern Arts, one artist will every day continue to share his or her feelings against the pandemic with three artworks, such as paintings, prints, graphite, during the isolation days of Covid-19.
Who is Tetiana Ocheredko?
She was born in Kiev, Ukraine in 1985. In 2010, graduated from the Graphic Faculty of the Kiev Igor Sikorsky Polytechnic Institute. She is a member of the National Artists Association of Ukraine. In 2012, she received scholarships from Kiev Municipality given to young people for their personal creative contribution to the development of the city and their high success in social life. Since 2007, she has participated in more than 15 national and 25 international painting and graphic exhibitions and outdoor exhibitions. Between 2008 and 2018, she drew more than 15 paintings for children and adults books published in Ukraine and abroad. In 2016, she worked as an animator of the world's first feature-length animated film, "Loving Vincent", about the life and death of Vincent Van Gogh. In 2018, the movie "Loving Vincent" was nominated for Oscar and Golden Globe Awards. In 2018, she was awarded for attending the "Engravings of the World" engraving and sculpture exhibition held by the Greek Alzheimer's Disease and Associated Diseases Association in cooperation with the Archaeological Museum of Thessaloniki. In 2011, she won the "Green Wave" art competition held at the Artist Gallery in Kiev, Ukraine. In 2019, she opened her personal art exhibition "Repin's places" in the city of Kiev. She also organized the solo engraving exhibition title "Different and Similar". In 2015, she opened her solo engraving exhibition "Our World" in Minsk, Belarus. In 2011, she held her solo engraving exhibition titled "My Kiev" at the Kiev Cultural Artists Museum. She participated in exhibitions held in Belarus, Ukraine, Bulgaria, Russia, Poland, Czech Republic, Turkey, Egypt, Spain and participated in the international open-air exhibition in China. Her artworks take place in museums and private collections in Ukraine, Egypt, Poland, Latvia, Spain, Italy, England, Germany, Australia, Egypt, USA, Greece and China.