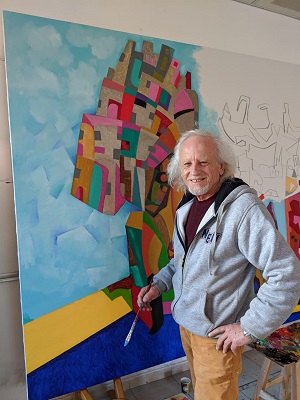 Artists continue to paint on canvases to support and raise awareness against the new type of coronavirus (Covid-19), which surrounds the world and causes hundreds of thousands of deaths.
According to the information provided by the Press and Public Relations Directorate of Near East University, artist Ramazan Useinov supported the fight against the coronavirus for the Cyprus Museum of Modern Arts. In his works, artist Ramazan Useinov illustrated the life, struggle and victory of humanity from his own perspective.
The artist also stated that coronavirus, which forced people into quarantine, cannot put artists off from their arts and that they are continuing to reflect their feelings on canvas. The artist underlined that we have to continue our lives by taking all the warnings and precautions into consideration, without compromising that the results of staying at home have started to be recognized positively in this process.
In the statement, it was stated that artists in different branches will continue to support the struggle against the coronavirus from various perspectives for the Cyprus Museum of Modern Arts and bring their artworks together with the art lovers.
Who is Ramazan Useinov?
He was born on July 02, 1949, in Samarkand, Uzbekistan. He graduated from P.P. Benkov Republic Art College in Tashkent city in 1971. He has been a member of the Union of USSR Artists since 1988. He is the State Artist of Ukraine. He was nominated for the Crimean Autonomous Republic Award. He held his solo art exhibition in Moscow in 1991. In 1993, he moved to Crimea. In 1998, he was awarded the painting award "Bird Flights" at the Kiev triennial. In 2000, he held an art exhibition at Simferopol Art Museum. In 2002, he organized his solo art exhibition at the Central Art House in Moscow. In 2005, he opened his solo exhibition at the Ukrainian Embassy in Washington. In the same year, his solo art exhibition was opened in Kiev. In addition, his solo exhibitions have been held in cities such as Odessa (Ukraine) and Sevastopol (Crimea). He also took part in many group exhibitions: Russia (Moscow) – in 1991, 1993, 1994, 2003, 2004, 2005 and 2014; Ukraine (Kiev, Simferopol, Dnipropetrovsk, Sevastopol, Bahçesaray, Feodosia) – in 1997, 1998, 2002, 2004, 2004, 2005, 2007, 2008, 2009 and 2010; Germany (Hamburg, Berlin, Magdeburg) – in 1999; Hungary (Kecskemét) – in 2000; Turkey (in Ankara) – 2000 and 2012; Croatia – in 2005; China (Shanghai) – In 2009; France – in 2010; Switzerland (Geneva) – in 2014; United Arab Emirates (Abu Dhabi, Dubai) – in 2015 and 2017.The artist's works are in museums in Moscow, Tashkent, Samarkand, Bukhara, Nukus, Sevastopol and Simferopol, as well as in private collections in Europe, Asia and America.