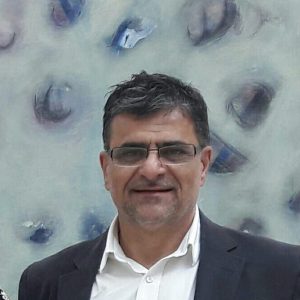 With the spread of the new type of coronavirus (Covid-19) worldwide, Turkish Cypriot artists continue to reflect their feelings against the epidemic and depict the struggle against the virus on canvases.
Making explanations to the Near East University Press and Public Relations Directorate, Near East University Faculty of Fine Arts and Design lecturer Assist. Prof. Dr. Mustafa Hastürk said; "The Coronavirus has caused panic all over the world. Perhaps for the first time, human beings understood how weak and powerless they are. Is this a warning? Is it a shake-up or reaction of nature against the pollution of nature, lost humanity, lost values? Is it a reflex it shows? What?"
Art heals…
Hastürk; "Our planet is undergoing a process of self-renewal. We are facing a new world order where everything will be re-evaluated and handled differently. In this sense, art can be a factor that can save people as art affects the soul of mankind. Art beautifies, cleans, purifies, heals. And, man needs this spiritual healing. I believe that art first clears my soul, calms and heals, and then provides an improvement in the soul of the whole society through the works I have produced. Corona is a warning from the universe that reveals our mistakes and weaknesses and makes us aware. And, if it is to be taken, it is actually a lesson…
Before corona, I had produced works of art by addressing the issues of life and addressing the negativities, the bad, the ugly and the distorted, and turning them into art objects. In this process, by taking the slogan of "Contains Art Life", I produced the Corona subject as a digital art in line with the slogan of stay at home and stay healthy.
While the process of shaping the different states of Corona by transforming it into an artistic expression, I have experienced a spiritual improvement in myself, I wish everyone to stay at home and stay healthy."
Who is Mustafa Hastürk?
He graduated from Gazi University, Faculty of Education, Department of Industrial Design between 1979-1983. He completed his postgraduate thesis on Pictorial Trials on Musical Rhythm in 2011, and his PhD thesis on "Reading Turkish Cypriot Community's Social and Cultural Life through Representative Artworks" in 2017 at Near East University, Faculty of Fine Arts and Design. As a member of the board of directors and chair of the Culture-Art Committee, he served as the organizer of KTOEÖS Painting-Sculpture Exhibitions. The artist, who is a member of EMAA, UPSD and the Paper Artists Association, served as the Culture Department Director between 2004-2009 and served as the art consultant for the TRNC Parliament between 2014-2017. His article titled "Reading The Environmental Pollution in Lefke Through The Works Of Art" has been published in a journal enlisted in Web of Science. He was the curator and art director of the Turkish Cypriot Painters Exhibition -Retrospective- which was opened at Near East University in January 2018. Currently, he is a faculty member and art advisor to Founding Rector Dr. Suat Günsel. In addition to eight solo exhibitions at home and abroad, he has also participated in many group exhibitions at home and abroad. Many of his articles have also been published in international journals.