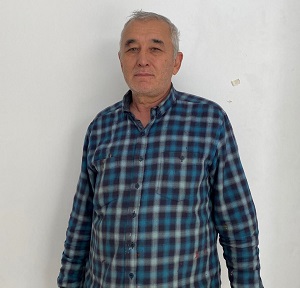 The spread of new types of coronavirus (Covid-19) has also had an impact on artists worldwide. Reactions against the pandemic were reflected on the walls of buildings and on canvas in various countries.
According to the information provided by the Press and Public Relations Directorate of Near East University, the artist Muratjon Urmanov has reflected the measures that should be taken against the coronavirus (Covid-19), which spreads around the world and cost the lives of tens of thousands of people.
Muratjon Urmanov stated that we should care about the calls of the rulers of the country in this challenging process, and said that we should stay at home to stay healthy. In the statement, it was reported that for the Cyprus Museum of Modern Arts, one artist will continue to share three of his or her artworks such as painting, print painting, and graphite every day.
Who is Muratjon Urmanov?
Born in 1957 in Tashkent, the artist Muratjon Urmanov is a member of the Uzbekistan Artists Union. He studied at the Republican Art Boarding School between 1970-1976. He completed his education at the Faculty of Monumental Painting of Theater Art Institute between 1976 and 1981. He participated in the decoration of Berlin between 1996-1998. Between 2000 and 2010, he served as the director of the Sergey Borodin Museum. He participated in the creative association "Play Tasviriy" between 2010-2015. Muratjon Urmarov participated in the "My Contemporary" exhibition held in the Baltic States and many other exhibitions in Uzbekistan.