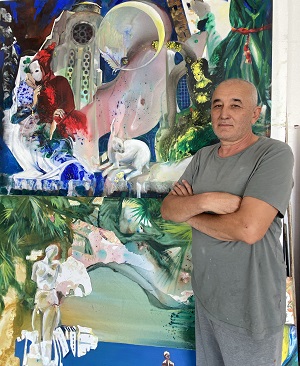 Artist Muratjon Urmanov exhibited his artworks painted on canvas for the Cyprus Musem of Modern Arts; "Whirligig", "Oriental Music" and "Masked Bride" and offered them to the taste of art lovers.
In his work titled "Whirligig", the artist depicts a young girl who symbolizes the memories of the past with a toy she holds. According to the artist, the girl wears a white dress that symbolizes purity. The dark colors in the picture reflect the mental pain and sadness of the girl. In the work, the story of the girl's loss of someone she loved in her past life is tried to be depicted in the eyes of the audience. The artist has painted this scene allegorically. A delicate girl with her hair waving in the wind is resisting the black rookie which takes her to the sky.
In the other work of artist Urmanov, "Oriental Music", three girls are depicted. One of the girls holds "Sato", one of the national instruments. Sato, a unique and mysterious instrument of oriental music which has been used since ancient times, has been described with its melody. The girls in the background listen to music closely. Bright colors are a symbol of fun and future creations. On the right side of the picture, the audience looking at the musical performance with curiosity and a distracted girl who is impressed by this performance, revives past memories with a sad expression. The artist also depicted the image of a young couple enthralled by the atmosphere created by the impressive sound of the musical instrument.
In the last work of the artist named "Masked Bride", he reflects all the sorrow and anxiety of humanity on his canvas. The artist shows the image of a masked bride who is prepared for an important moment in her life despite all the difficulties in the world. The bright colors in the picture reflect the inner world of the girl and the excitement of other events in her life. The artist conveys the strong character of the girl to the audience with red tones.
Who is Muratjon Urmanov?
He was born in 1957 in Tashkent. He is a member of the Uzbekistan Artists Association. He studied at the republican art boarding school between 1970-1976. He studied at the Faculty of Monumental Painting at the Theater Art Institute between 1976-1981. He participated in the decoration of Berlin between 1996-1998. Between 2000-2010, he worked as the director of the Sergey Barodin Museum. He participated in the creative association named "Play Tasviriy" between 2010-2015. Muratjon Urmarov participated in the "My contemporaries" exhibition held in the Baltic States and many other exhibitions held in Uzbekistan.