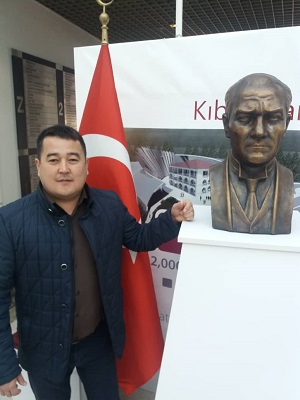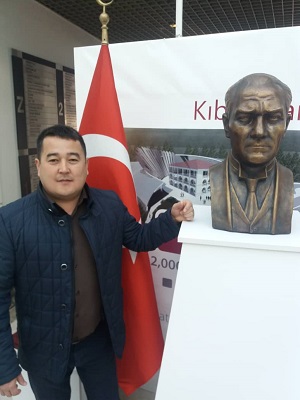 Due to the spread of the new type of coronavirus (Covid-19) worldwide, artists continue to depict the fight against the pandemic on canvases, sometimes with ceramics and sculptures.
According to the information given by the Press and Public Relations Directorate of Near East University, the sculptor İsken Abdaliev explains how fragile the inner balance of the human is in the age of rapid change.
Artist İsken Abdaliev said; "With the coronavirus epidemic that we pass through, in an age of rapid change, a balance of life becomes a need for a person living in a tremendous speed of life. The man in the statue strives for balance and peace. The wheel in the statue is a symbol of spirit power. The balance protection of the figure tells how fragile the inner balance of the human being is."
Who is İsken Abdaliev?
He was born on December 31, 1979, in Bishkek, Kyrgyzstan. He graduated from the boarding school at the National Academy of Arts. He entered the Easel-Sculpture Department at the T. Sadykov National Academy of Arts. He obtained a qualified specialist sculptor diploma. During his artistic life, he participated in the sculptors' republican symposia and international artist exhibitions:
1998 – He attended the XI Republic symposium dedicated to Aitmatov's 70th birthday.
2000 – Osh, attended the XIIIrd Republic Symposium of "300" sculptors dedicated to the feast.
2001 – Participated in the symposium of the XIVth Republic Ssculptors in Celal Abad.
2013 – Participated in the republic art exhibition dedicated to the 85th anniversary of Aitmatov.
2016 – Participation in the republic symposium of sculptors held in Issyk-Kul.