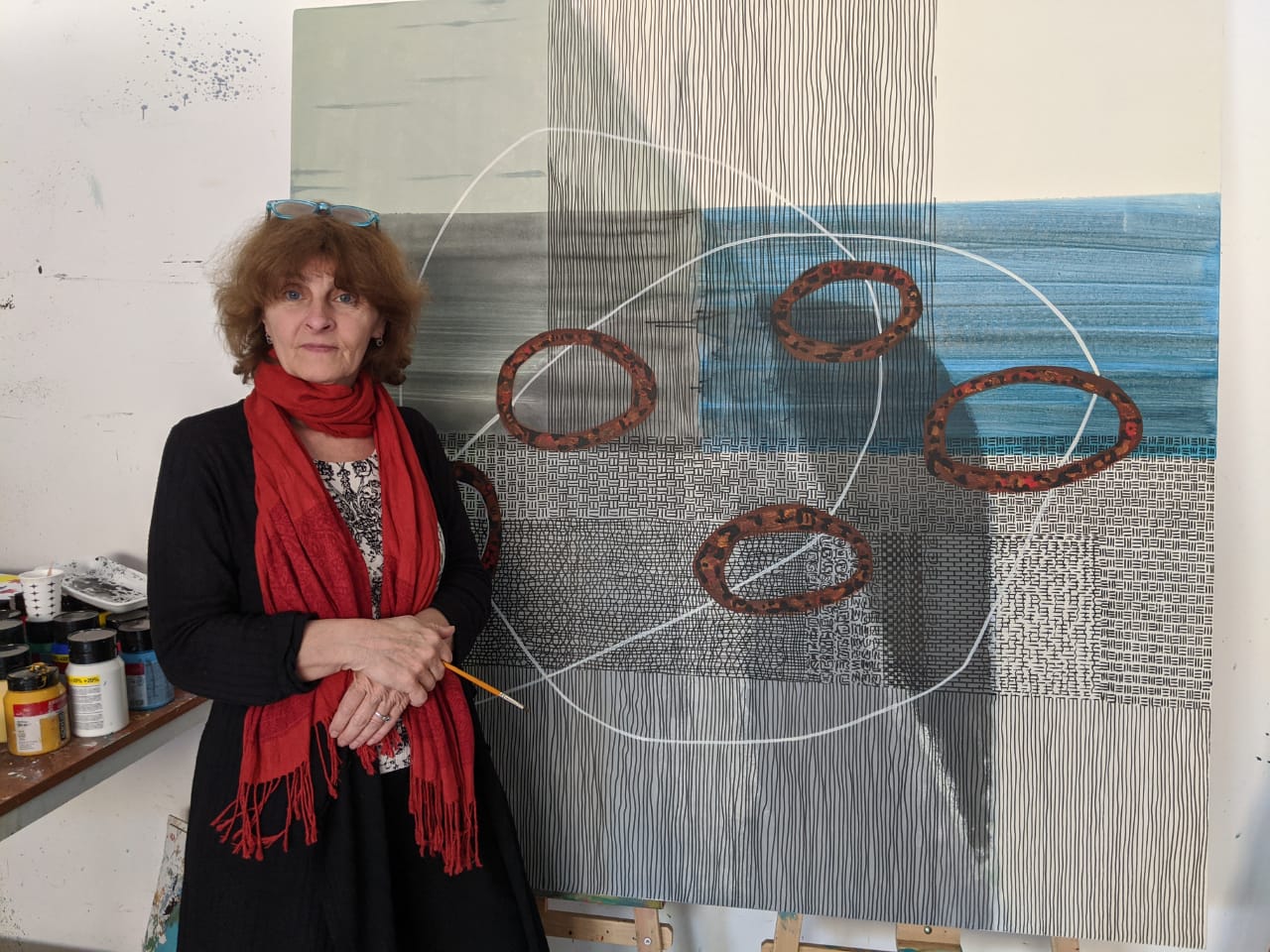 In order to raise awareness and support the combat against the new type of coronavirus (COVID-19) that affected the world, artists continue to share with the art-lovers their artworks that they created during the quarantine days.
The Directorate of Press and Public Relations Office of Near East University released that artist Irina Lavrinenko reflected the historical periods of Cyprus on her canvas through motifs and figures specific to Cyprus.
The artist reflected the motifs and figures specific to Cyprus on canvas…
Having been inspired by various figures and motifs drawn on ceramic-pots dating to the period of Cyprus-Archaic I (750-600 BC) that unearthed as a result of archaeological excavation in various antic sites of the island of Cyprus, artist Irina Lavrinenko painted three different works on canvases and presented them to the taste of art-lovers.
Artist Irina Lavrinenko shared information about her paintings that she created for Cyprus Museum of Modern Arts during COVID-19 quarantine days: "The figures that painted depict a fishing bird, wild goat, migratory birds, a monkey and various shapes and symbols drawn on ceramics reflecting the characteristics of the period. One of these shapes is the lotus flower, which is one of the symbols of Cyprus in archaeological periods. The motifs depicting the symbols on ceramic pots unearthed in various archaeological sites of the island of Cyprus were used in the paintings" noted she.
In the statement, it was reported that the works created by the artists during the quarantine days for the Cyprus Museum of Modern Art will continue to be shared.
Who is Irina Lavrinenko?
She was born in Tbilisi in 1958. She studied at the Tbilisi State Art Academy between 1978 and 1983. She worked as an art teacher at No:53 School between 2001-2003. She worked as a teacher at State A. S. Pushkin Pedagogical Institute between 1987-1992. She has been a member of the Georgian Textile Group since 1997.
Some of the national and international exhibitions she participated in;
1997 – First international textile art exhibition "Be a friend", 'The Museum System', Gallery
1998 – Exhibition of Georgian textile group in modern art gallery
1999 – "Silk Road" second international exhibition of textile art, National Painting Gallery
2000 – Contemporary Georgian fiber art; Seam Gallery, Megadim, Israel
2001 – Georgian Textile Fair, Karvasla Gallery
2001 – "Crossroad" – Third international textile art exhibition, Tbilisi Karvasla History Museum.
2003 – 4. International Textile Art Exhibition, Tbilisi Karvasla History Museum
2005 – 5th Russian Decorative Arts Festival, Ivanovo, Russia
2005 – Georgian blanket and applique (XIX-XX centuries), Tbilisi Karvasla History Museum
2006 – Georgian art exhibition in Chicago, USA
2006 – Won the first prize in the International 'Over the Head Blanket' Competition and Exhibition organized by the American Quilt Alliance.
2007 – Quilt exhibition at 'Racio' Gallery
2008 – Textile art exhibition in "9" gallery
2010 – Group exhibition "Blanket – Textile Art", gallery "Open Society Fund"
2010 – "Old and New Blankets" group exhibition – Georgian National Folklore Center
2010 – Quilt exhibition at the National Library of Georgia
2011 – US Embassy textile group exhibition
2012 – "Textile in Interior" Exhibition – Vetro Vario Gallery
2014 – The textile exhibition of Georgian artists held at the Apollo Kutateladze gallery at the Tbilisi State Art Academy.
2014 – "Barcelona Art Festival", international exhibition at Spain Island Gallery
2016 – "315" exhibition, Chardin gallery
The artist opened many solo exhibitions:
2007 – Solo exhibition at the US Embassy in Georgia
2002 – Solo exhibition at the American school in Tbilisi
2003 – Solo exhibition at the United Nations Headquarters
2006 – Solo exhibition at 'Center Point' Gallery
2018 – Solo exhibition at the Chardin gallery