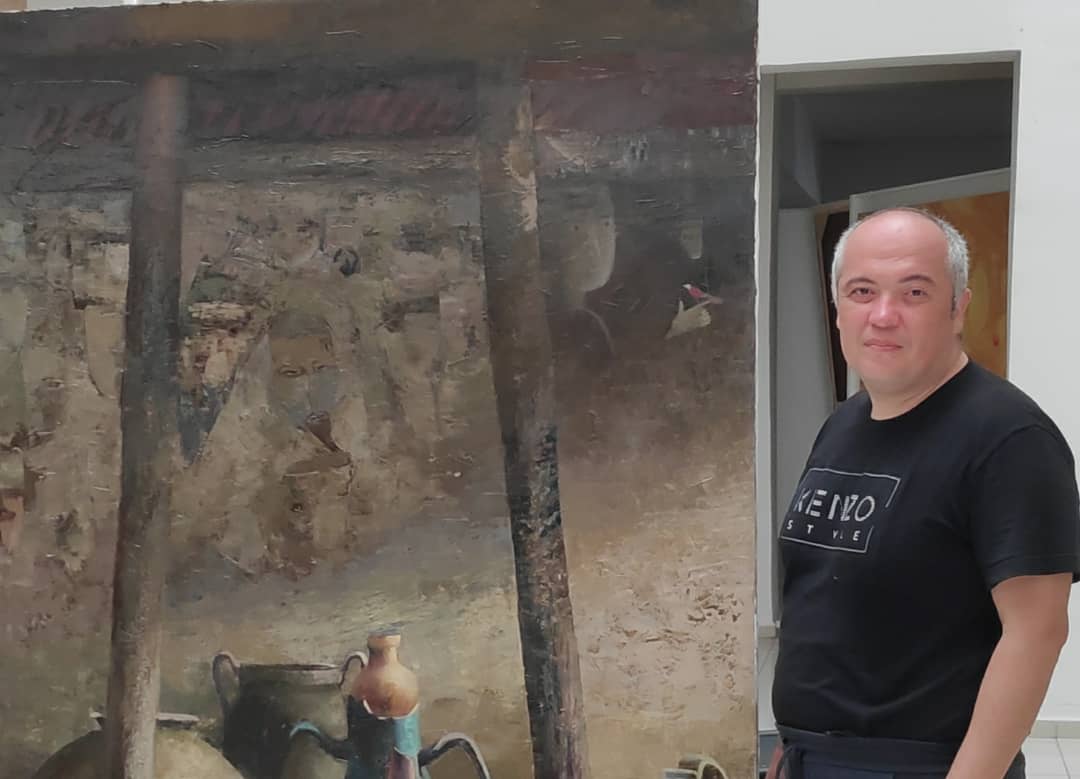 Artist Farruh Akhamdaliyev shared two of his art works he named "Holy Day" and "Passage from the Past" for the Cyprus Museum of Modern Arts.
According to the information given by the Press and Public Relations Directorate of Near East University, the artist tells that, in his painting named "Holy Day", he reflects the colorful life of the eastern people and also emphasizes that dynamic patterns give the work a drama and sophistication, creating a kind of melody that touches the depths of the soul.
Regarding his other artwork named "Passage from the Past", the artist says; "In Central Asia, such passages are called "Dulon". Dulon is filled with a philosophy of life that has existed from the past to the present. The dark tunnel leading to the light reminds us of the transience of our lives with sooty walls, columns and the qualities of daily life."
Who is Farruh Akhamdaliyev?
He was born in 1982 in Uzbekistan, Tashkent. He graduated from Republic Art College in 2000. He graduated from Bihzâd National Art and Design Institute in 2005. Since 2000, he has participated in numerous regional and international exhibitions. With the support of the Forum Fund, he was awarded the first prize in the "Uzbekistan Youth" exhibition.
His awards and participations are as follows;
2000 – "Borders" project second prize,
2003 – Participation in the art exhibition of young artists held with the support of the Polish Embassy,
2006 – Participation in art exhibitions "Eastern Symbiosis" and "Artist and writer" with the support of the German Embassy,
2007 – Participation in "Tetregon" and "Constellation" art exhibitions with the support of the Swiss Development and Cooperation Agency,
2012 – Participation in the group exhibition of artists from the CIS countries held in Cichiang, China,
2014 – Participation in the International Art Symposium in Boryeong, Korea,
2018 – Participation in art event of CIS countries called "Again Together" held in Moscow.
His solo exhibitions are;
2006 – Solo art exhibition at Tashkent Intercontinental Hotel,
2008 – Solo art exhibitions held at the Cultural Center of the Republic of Egypt, the German Embassy in Karachi, Pakistan, and the Ilkhom Theater,
2009 – Solo art exhibition at Anora's Gallery,
2012 – Solo art exhibition held at Has Art Gallery in Astana, Kazakhstan,
2013 – Solo art exhibition held in Istanbul,
Also, the artist's works take place in private collections in the USA, Bulgaria, Poland, Germany, England, Russia, Kazakhstan, Switzerland, Singapore and Korea.