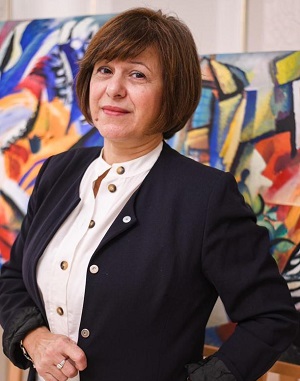 Due to the spread of the new type of coronavirus (Covid-19) worldwide, artists continue to reflect their emotions and struggle against the epidemic on canvas.
According to the information given by the Press and Public Relations Directorate of Near East University, artist Asmer Narimanbekova drew attention to the fight against coronavirus, which has caused fear and anxiety throughout the world and cost thousands of lives.
In the statement, it was stated that the Cyprus Museum of Modern Arts will continue to share artworks of a different artist created with different perspectives to support the fight against Covid-19 every day.
Who is Asmer Narimanbekova?
He was born in Baku in 1961. He is an assoc. prof. at the Fine Arts Academy and a state artist of the Republic of Azerbaijan. He is the President of Baku Modern Art Gallery. He is also the president of the Togrul Narimanbekov Association in Paris, France. He is a member of the Union of Artists of Azerbaijan and France. He graduated from Tbilisi State Art Academy in Georgia. In 2019, his solo exhibition titled "Unlimited Art" opened at UNESCO in Paris in 2019. He participated in the VIIIth Art of Peace exhibition in Paris City Hall and UNESCO. In 2018, he participated in the 'Unlimited Colors' 'Passepartout Art Gallery' exhibition in Milan, Forli, Varese, Italy. In 2019, he opened his solo exhibition titled "Unlimited Colors" in Venice, Italy. Between 2016 and 2017, he held exhibition at the Expocenter in Cannes. In 2016, his solo exhibition titled "Poesie der Farben" opened at the Vienna Cultural Center of Azerbaijan (Austria). In 2016, he opened a solo exhibition at the Baku Gallery in Berlin, Germany. In 2009, he opened a solo exhibition at the Baku (Azerbaijan) Contemporary Art Center (Gallery). In 1998, his solo exhibition was held at the Humei Gallery (UK).