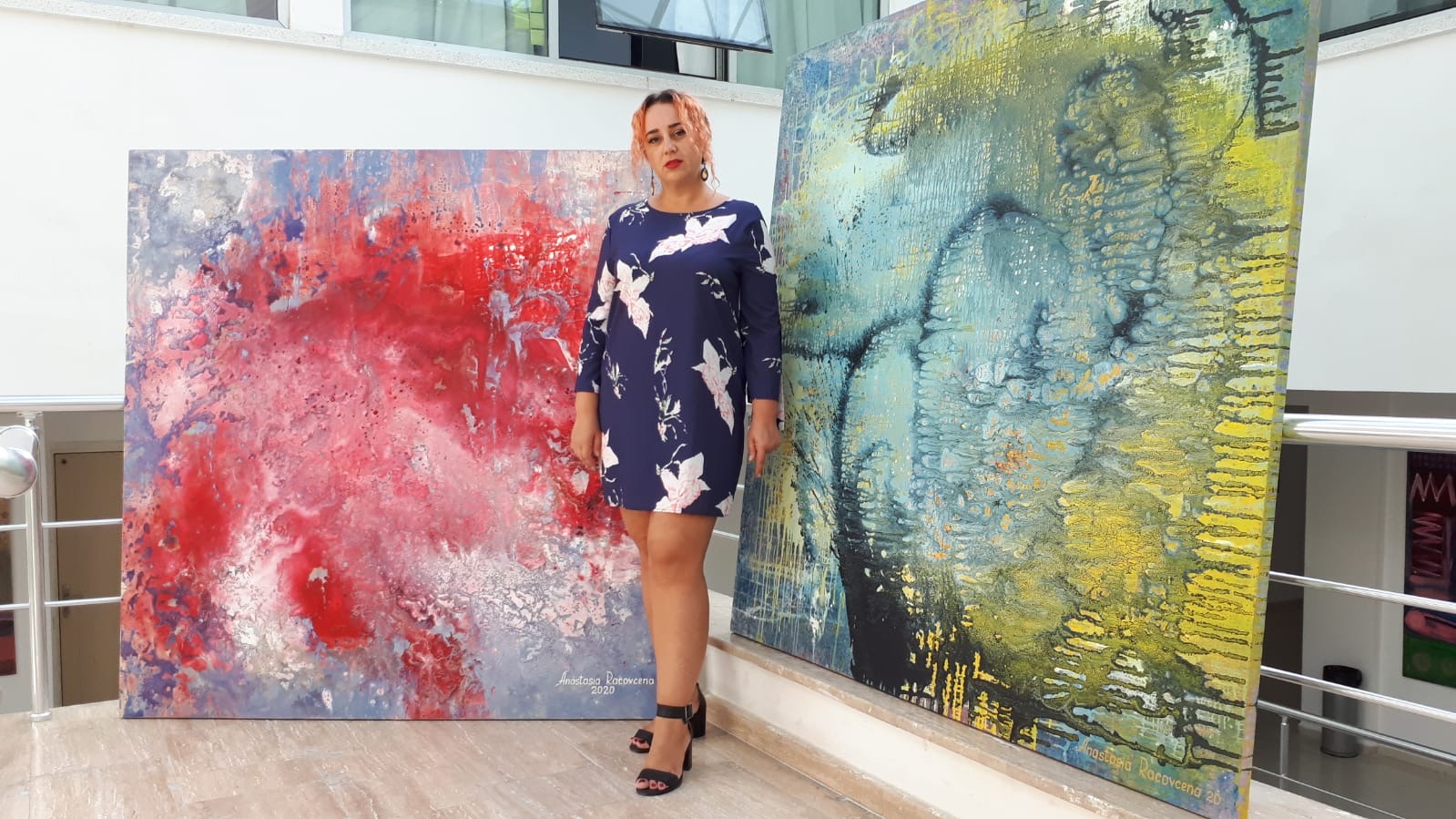 Artist Anastasia Racovcena presented her three artworks, "The Coast of Music Illusions", "Totems of the Renaissance Tribe" and "Shining Sand with Solar Energy", which she painted for the Cyprus Museum of Modern Arts, to the taste of art lovers.
According to the information given by the Press and Public Relations Directorate of Near East University, artist Anastasia Racovcena said the following about her works she created for the Cyprus Museum of Modern Arts;
"The Coast of Music Illusions"
"A melody that defines a certain time at each stage throughout a person's life makes a sound. This melody sometimes responds to our expectations, sometimes surprises us, sometimes excites us. Usually, these inconsistencies add color to our lives and color it with gorgeous shades. The excessive inconsistencies that occur throughout our lives offer us a different and brighter life. "
"Totems of the« Renaissance »Tribe"
"This painting was created under the influence of existing realities. Artists who stayed on the island of Cyprus during quarantine remind of a flame whose duty is to serve the well-being of art in all circumstances. A totem is a kind of flame torch that helps to see the direction of the road and solve any life problems."
"Glowing Sand With Solar Energy"
"Creating this composition was possible only in Cyprus. To reach the sea, it is necessary to pass through the burning sand like fire. The sand fed by solar heat awakens the creative energy that accumulates for years in human and the real nature of the human when it comes into contact with human."
Who is Anastasia Racovcena?
She graduated from Komrat State University in 2002. The artist's works are in the collection of the main educational section of Gagauzia. A letter of thanks was given to her by the General Directorate of Education in Gagauzia for making a collection of pictures for the establishment of the Ministry of Education. She received a letter of thanks from the organization of "TURKSOY" and the management of the city of Malatya for her contribution to the unification of the Turkish people with her participation in the international TURKSOY art exhibition.
She was awarded numerous diplomas by the Department of Culture and Tourism as she participated in group art exhibitions. The artist's paintings are in collections in Russia (Moscow), Moldova (Chisinau), Gagauzia (Comrat), Turkey (Malatya), Bulgaria (Sofia), Germany (Mellrichstadt).
In 2016, she participated in the group art exhibition titled "Gagauzia Woman in Fine Arts" held in the city of Comrat. In the same year, she participated in the international group art exhibition held in Turkey, Malatya "TURKSOY" organization. In 2017, she participated in the group exhibition titled "Palette of the Motherland" held in the city of Comrat. She held 2 solo art exhibitions in the Gagauzia art gallery. She represented Gagauzia in the 19th open-air painting exhibition held in Turkey by TURKSOY. She participated in the annual group art exhibitions titled "Spring, Woman, Love" held in the city of Comrat, between 2017-2019.