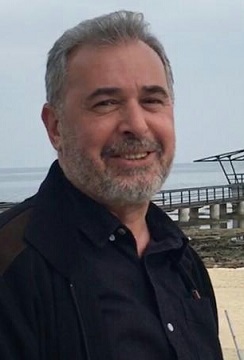 One of the artists and academicians of Near East University, Assoc. Prof. Dr. Murad Allahverdiyev used his art on the canvas for the Cyprus Museum of Modern Arts to support the struggle against Covid-19 worldwide.
According to the information given by the Press and Public Relations Directorate of Near East University, artist Murad Allahverdiyev, in his artworks titled "Migration of the Souls", "Mutation" and "Change" tried to support the fight against the pandemic caused by the new type of coronavirus and draw attention to the relationship between human and nature.
The artist also gave the message of # Evdekal-Stayhome, emphasizing that the hygienic materials used (mask and gloves) should not be discarded randomly after use and that it is important for the public health to follow the warnings and precautions.
In the statement, it was reported that the Cyprus Museum of Modern Arts will support the fight against the pandemic with the works of a different artist every day from different perspectives.
Who is Murad Allahverdiyev?
He was born in Baku, Azerbaijan in 1960. He studied at A. Azim-zade Art College between 1975-1979. In 1979 he entered the Academy of Applied and Decorative Arts of Ukraine in Lviv. He returned to Baku in 1989 and started teaching at the State Institute of Art in 1990. In 2000, he started to work for the Azerbaijan State Art Academy. In 2004, he became an assistant professor of the Department of Applied Arts at the Academy of Arts. Since 1991, he has been a member of the Union of Soviet Socialist Republics and the Union of Artists of Azerbaijan. Since 1985, he has been participating in national and international exhibitions. He became a member of Association of European Artists in 1987. Murad Allahverdiyev opened 9 solo exhibitions and his first solo exhibition was opened in 1986 at the Lviv National Gallery.
His solo exhibitions opened in 1987 in Warsaw, Hungary in 1988, and in Baku art center in 1997. He has been participating in many national and international exhibitions since 1987.
Some of those;
1994 – Iran
1996 – Stockholm and Moscow
2004 – Participated in the exhibition of 10 Azerbaijani artists in Paris
2004 – Vienna.
The artist, who has been in the Turkish Republic of Northern Cyprus since 2007, has been working at Near East University, Faculty of Fine Arts and Design, Department of Plastic Arts since 2013. He is the bearer of the "Artist of the Year" and the European Artist diploma.