SOCIAL LIFE AND STUDENT CLUBS
One of the most important elements of university life for newcomers and active students is the social life which students should be able to develop on their own. It has been stated by many researchers that interacting with others boost feelings of well-being and reduces feelings of stress which may be caused by academic work load and trying to adapt to a new environment. Therefore, socializing in different environments helps students to build connections that can be useful in the long run and to move beyond the classroom environment.
A perspective focused only on academic development is an obstacle to obtain an opportunity to communicate and socialize with others from culturally diverse backgrounds, which is one of the most important achievements of the university. Our university is aware of this fact and for this reason we are providing social activities for student's personal and cultural development by supporting their interests.
At the Island:
Beside its historic sites and natural beauties, Northern Cyprus offers opportunities for students to improve their social skills by participating in social activities outside the school which include alternatives such as swimming at clean beaches, surf clubs, paragliding, camping and hiking routes.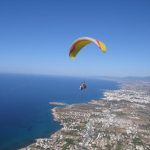 Photo from Highlineparagliding company.
At our University:
Conferences and seminars are part of our support system provided to our students to support their educational and personal development.
An active social life allows you to participate in student clubs where common interests can be shared.
Activities such as picnics, cycling trips and music festivals that provide more productive and enjoyable university life are being carried out. There is also an activity room at our university allowing students to relax and have fun during their free time.
In addition, football, volleyball, and basketball tournaments are held as a part of sport activities. There are different types of student clubs at our university to help our students to adapt to the university life. Students are also free to start their own club to meet their interests and to organize activities related to their clubs. Joining a student club allows you to create an environment to relax and spend time with people who share similar views after a long day of classes.
Student Clubs (*)
New student Orientation (at the beginning of the semester)
African Society Club
Chess Club
Dance Club
Environmental and Social Responsibility Club
Literature Club
Media and Photography Club
Music Club
Outdoor Sports Club
Sail Club
Search and Rescue Club
Theatre Club
Water Sports Club
Yoga Club
Fenerbahçe Fan Club
Galatasaray Fan Club
Architecture Club
Aviation Club
Marine Club
Medicine Club
Psychology Club
Psychological Counseling and Guidance Club
(*) Students are free to start a club for any interest.