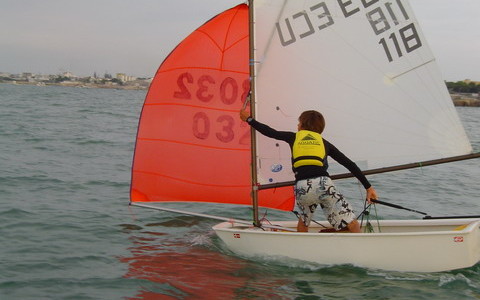 Come on lets sail!
University of Kyrenia School of Sailing and Water Sports, which is part of the Continuing Education Center provides swimmers the Optimist Sailing Sport.
Optimist Sailing Sport, is a water sport which is performed within a safe environment, which improves intelligence, reinforces the ability to take responsibility, raises self-confidence, presents competition and solidarity, and also promotes being a social individual who is at peace with oneself and the environment while also developing the ability to help.
Our courses will be held with a licensed instructor and a certificate will be given to those who complete the course successfully.
The PCR test of our trainers is performed regularly. Our boats and equipment are disinfected before trainings.
Groups*:
5-7 years of age: Junior Sailor
7-13 years of age: Opti Junior (beginner level)
7-13 years of age: Opti Junior (advanced level)
Adult (18+): Basic Sailing Training
* Participation within the groups will be limited within the framework of measures taken during the pandemic process.
Course Venue**:
Kyrenia Les Ambassadeurs Hotel Marina and Famagusta Mimoza Hotel
For application:
cagri.deliceirmak@kyrenia.edu.tr
Documents required for participation:
Photocopy of Identity Card
1 passport photo
Health report (Report stating that he/she can sail)
Registration form
Payment receipt (Account name and number: Near East Bank Dr. Suat Günsel University of Kyrenia Education Foundation 10-304-22700)