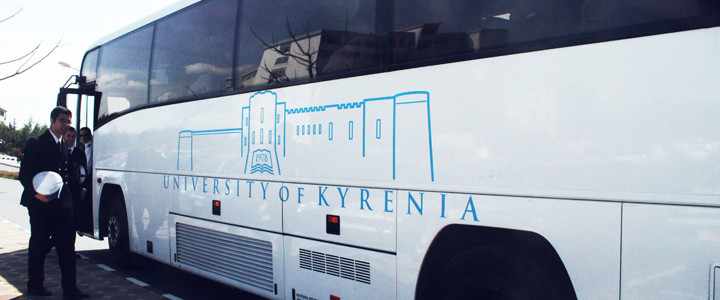 The shuttle services started in 1991 with only 3 buses, 1 mini-bus, 4 drivers and 1 manager. In 2003, it was reorganized and continues to service in the most organized way.
Services And Responsibilities Of Transportation Office
Meeting the transportation needs of students according to the decisions of the Transportation Directory between the campus and various locations.
Offering transportation for students and personnel for Campus-Nicosia-Campus and Campus-Gönyeli-Campus routes.
Offering transportation for students of pre-school, elementary school, college and all faculties, for educational or academical activities in and out of campus.
Offering shuttle services for instructors coming from overseas, their transfer from the airport or from the harbour to the campus, and also their transfer from the campus to the airport or to the harbour.
Transfer of newly registered students from airport and seaports to campus.
Offering transportation services for NEU Sports teams and for all the cultural and social clubs.
Offering transportation for weekend journeys and sightseeing trips arranged by faculties.
Offering shuttle services for social events and academic activities which takes place outside the campus during weekend.
Offering transportation for academic and administrative staff.
Offering ambulance service to NEU Hospital and Health Service.
Offering transportation services to the Near East Tourism Agency (Dorona Travel and Dorona Hotel), NEU Fuel Station, NEU Grand Library and NEU Olympic Pool.
Service and Work Guidelines of Transportation Office:
NEU transportation activities are carried out in accordance with the Traffic Laws and Regulations of TRNC.
Safety of life and property is the basic principle.
Precision of duties and services.
Keeping transportation vehicles clean and in best condition as if they are about to run in service at any moment.
Using different vehicles appropriate for various transportation tasks.
Integration of tasks that are convenient for the same kind of transportation is principally necessary.
UNIVERSITY OF KYRENIA TRANSPORTATION SERVICE INFORMATION
| Near East University Exit | University of Kyrenia Exit |
| --- | --- |
| 07:30 | 08:30 |
| 09:30 | 10:30 |
| 11:30 | 12:30 |
| 13:30 | 14:30 |
| 15:30 | 16:30 |
| 17:30 | 18:30 |
Neu- Kyrenıa Unıversıty Servıce Route
1- Neu, Dıvınıty Faculty Exıt
2- Dıkmen
3- Kyrenıa Roundabout
4- Ezıc Traffıc Lıghts
5- Apartlar Road
6- Termınal
7- Water Roundabount
8- Dogankoy Roundabount
9- Bellapaıs Traffıc Lıghts
10- Kyrenıa Harbour Roundabout
11- Karakum
12- Kyrenıa Unıversıty Arrıval
Unıversıty Of Kyrenıa Transportatıon Servıce Informatıon
Saturdays Servıce Tıme
| NEU Divinity Faculty Exit | University of Kyrenia Exit |
| --- | --- |
| 08:30 | 09:30 |
| 10:30 | 12:30 |
| 11:30 | 14:30 |
| 13:30 | 17:30 |
| 16:30 | |
Neu- Kyrenıa Unıversıty Servıce Route
1- Neu, Dıvınıty Faculty Exıt
2- Dıkmen
3- Kyrenıa Roundabout
4- Ezıc Traffıc Lıghts
5- Apartlar Road
6- Termınal
7- Water Roundabount
8- Dogankoy Roundabount
9- Bellapaıs Traffıc Lıghts
10- Kyrenıa Harbour Roundabout
11- Karakum
12- Kyrenıa Unıversıty Arrıval
2015 – 2016 Academic Year Shuttle Services Schedule to Nicosia
Campus Departure Time
Campus Arrival Time
06:55
07:30
07:15
07:45
07:30
08:00
08:15
09:00
09:15
10:00
10:15
11:00
11:15
12:00
12:15
13:00
13:15
14:00
14:00
15:00
15:00
16:00
16:00
17:00
17:15
18:00
18:15
19:00
19:15
20:00
20:15
21:00
21:00
22:00
Bus Stops on Nicosia Service Route
Departure from Near East University Campus
Opposite of Fair Area (on main road)
Outside of entrance of Organized Industrial Area
Outside Okman LTD.
Outside of Yarim Bridal Shop
Opposite of Reis Supermarket
Outside of Old Cemetery
Outside of Is Bank
Kyrenia Gate (Outside Mucahits' Park)
Outside of Belca Supermarket
Outside of Youth and Sport Office
Next to Iktisat Bank
Outside of Tepe Mobilya Furniture Shop
Opposite to Dr. Burhan Nalbantoglu Government Hospital
Outside of Sismar Market
Cagaloglu Petrol Station roundabout
Next to Artesa
Outside of Fair Area
Entrance of Near East University Campus
2015- 2016 Academic Year Bus Stops on Gonyeli Route
Campus Departure Time
07:00
07:30
08:15
09:20
10:20
11:20
12:20
13:20
14:20
15:20
16:20
17:20
18:20
19:20
20:20
21:20
Bus Stops on Gonyeli Service Route
Departure From Near East University Campus
Outside Of Sismar Market
Outside Of Koop Gas
Outside Of Sofra Restaurant
Inside Vedat Petrol Station
Outside Sarıtaş Buildings
Return From Alaykoy Cattle Farm Roundabount
Outside Of Güran Florist (Next To Onan LTD.)
Enterance Of Kent Hotel
Ourside Of Gonyeli Municipality
Outside Of Kofali Hardware Shop
Opposite To Dorona Tourism
Outside Of Artesa
Entrance Of Near East University Campus